Posted by Eric Angevine

You may remember the name Binghamton. The small mid-major in upstate New York was the America East representative to the Big Dance two years ago, where they drew the unenviable assignment of facing Duke in the Greensboro pod. That ended predictably enough, but it was hardly the worst thing that would happen to the program in 2009.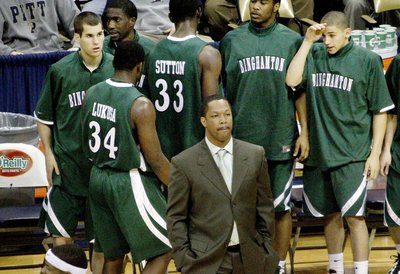 What did happen thereafter was revelation of exactly how Binghamton had become so good so fast, which pointed fingers at lax academic standards for athletes. That was tacked on to a series of criminal complaints against Binghamton players, including theft, drug abuse and a horrific physical assault. There's a
Binghamton Scandal wiki page
if you have the stomach for it.
So, long story short, the school has had a massive turnover in players and leadership, leaving former Temple star Mark Macon in charge of the program. Macon has struggled to field a competitive team,
starting walk-ons and DIII transfers
some nights.
It's tough not to feel for the guys who have been left to clean up the mess, so it's nice to see that the Bearcats are, somewhat miraculously, 3-0 in the conference right now. If you said you saw this coming after a 3-10 non-conference record, you'd be the world's worst liar.
The amazing thing about the sudden surge is the absence of any definable star power on the team. In the team's first league roadie, at New Hampshire, it was senior forward Mahmoud Jabbi who led the team with 17 points. After that, it was a home game with Stony Brook, French-born forward
Moussa Camara drilled five treys
to pace the Bearcats. In yesterday's home win over UMBC, the hot hand belonged to sophomore guard Jimmy Gray, who had a
career high of 23 points
.
How on earth did this happen? Nobody knows.
Jabbi himself can only resort to cliches at this point
. "I think we just go out on the court and we play hard," he told AExtra. "Guys really know their roles well and we have a certain game-plan that we go out there and we follow."
Will this winning trend continue? The Magic 8 Ball says 'outlook unclear, ask again'. The America East lead is a notoriously slippery thing to hold on to, usually decided on the last week of conference play. Even then, the bid goes to the school that wins the league tourney, and nobody else. Marc Macon's Bearcats have just shown that they can rip off three conference wins in a row. If they
do it again in Hartford
this March, this team is back in the Dance. The right way, this time.
Photo: AP