Posted by Eric Angevine

I know I just wrote a lot about Memphis in my last post, but it just so happened that something else Memphis-related caught my eye today, and I wanted to share it.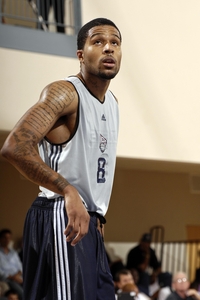 My RSS reader is chock-a-block with feeds from beat writers, fellow bloggers, national voices, etc. That, along with Twitter's instant (then instantly gone) gratification is how I keep up with the state of the college game on a daily basis. Over the past couple of years, I've also found a few odd and quirky corners of the internet that cover the informational niches.
One such site is
Digital Hoops Blast
, which is solely focused on how college basketball programs present themselves to the world via website design. If you've been to as many of these sites as I have, you know that there's a lot of standardization. Many schools sign up with a network that designs each school's website along more or less the same lines.
What DHB editor Dave Pawlowski does is single out those sites that go above and beyond to make a visit to the team website a valuable experience for fans. Everyone has a roster and a schedule, but some have innovative social media interfaces, or insider content you can't get anywhere else.
The
Digital Hoops Blast post about the Memphis Tigers website
caught my attention today. The site has an extremely snazzy interface that allows for easy access to the team's media guide. It's a far cry from the clunky pdf files most schools put out there, and the execution of the layout is also eye-catching. While most people probably gloss right over the section about the athletic trainer and the weight facilities, the Tigers make theirs compelling by including before and after photos of some famously buff former Memphis players.
Just
look at skinny Chris Douglas-Roberts
! Here he is in his jockey shorts, long before he had the Magna Carta tatooed on his soon-to-be-rippling triceps (right). Next to him is Antonio Anderson, growing a set of washboard abs sharp enough to puncture a tractor tire! Pretty compelling stuff for a potential recruit who pictures himself playing in the NBA some day.
Take your time riffling through the rest of the guide and you'll see how Memphis' hoops budget -- ranked
18th-highest in the nation in a 2009 report
-- helps them create steak out of sizzle.