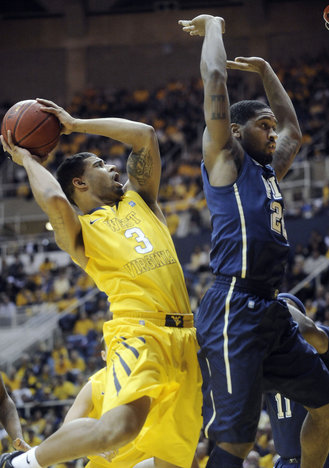 Posted by Jeff Borzello
Bob Huggins-coached teams are always known for toughness. From Kenyon Martin and Jason Maxiell to Eric Hicks and Da'Sean Butler, his players battle it out on the backboards and defend the rim as well as anyone in the country.
Until this year.
West Virginia had a chance to cement its status amongst the Big East elite on Monday night, playing against a Pittsburgh team without its best player and leading scorer, Ashton Gibbs. However, the Panthers went into Morgantown and came out with a 71-66 win. The Mountaineers were outrebounded, 40-28, and allowed Pittsburgh to grab 18 offensive rebounds.
The final rebounding numbers didn't come as much of a surprise; after all, Pittsburgh was the No. 1 offensive rebounding team in the country, while West Virginia ranked No. 292 on the defensive glass.
Time and time again, Nasir Robinson and Gary McGhee picked up second-chance opportunities for Pittsburgh, with Dante Taylor also getting in the mix late in the second half.
Furthermore, for all that Deniz Kilicli did on the offensive end (19 points on 9-for-13 shooting), he couldn't guard anyone in the paint. McGhee tied his season-high with 13 points, Robinson notched 15 points and Gilbert Brown had a momentum-changing basket with contact after blowing by Kilicli on the perimeter.
Kilicli wasn't the only culprit, of course. Forward John Flowers was in foul trouble all night, and Kevin Jones only grabbed three defensive rebounds.
Pittsburgh exploited West Virginia's deficiencies throughout the second half. The Panthers shot 61 percent from the field, with only one of those made field-goals coming from 3-point range. They finished with 42 points in the paint.
Despite playing without Gibbs, Pittsburgh didn't miss a beat. His replacement, Travon Woodall, had 12 points, including a clutch 3-pointer with 6:30 remaining to put the Panthers up six. Brad Wanamaker constantly made plays in the half-court, and the frontcourt came up big at key points. As usual, it didn't matter who was on the floor for Pittsburgh; Jamie Dixon's troops came out with a win.
On the other side, though, this is certainly not your typical Bob Huggins team.
Flowers might be the key, but he has to stay on the court. He played at least 39 minutes in the last five games, but only saw 27 minutes tonight. Jones has been inconsistent lately, and while Cam Thoroughman is a blue-collar performer, one can't expect him to go toe-to-toe with the best frontcourt players in the Big East.
The Mountaineers' offense also needs work, but that's not the biggest problem right now. Huggins' teams have never been pretty on offense, but at least they always held their own on the defensive end.
If West Virginia wants to make a run in March, it will have to rekindle that sort of personality.
Photo: AP