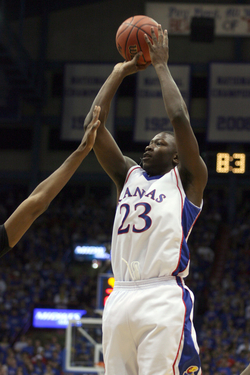 Posted by Eric Angevine


Josh Selby out with a foot injury?
No problem.
Both Morris twins on the bench at the same time?
Easily countered.
The Jayhawks won't want to test that theory often, but it worked against Missouri tonight. Mario Little, a junior college transfer who battled injuries that forced him to redshirt last season, and sat out a suspension this year, finally got his chance to make an impact for Kansas in a key game.
In fact Little had a career night in KU's 103-86 rout of Mizzou, scoring 17 points in as many minutes on 7-9 shooting from the floor. He wasn't the only senior reserve who made the most of extra time, either. Brady Morningstar, who started in place of the injured Selby, had seven assists and no turnovers against the Missouri press.
Despite the lopsided score, freshman Phil Pressey put on a star turn for the visiting team, draining four of five three-pointers, often from beyond NBA range, en route to 17 points on the evening. Veteran Kim English came off the bench for the second straight game, yielding the starting backcourt spots to Pressey and his older brother Matt.
The younger Pressey was one of three Tigers to foul out of the game. Big men Laurence Bowers (19 points) and Ricardo Ratliffe (12 points) were frustrated by the KU post players and each hit the five-foul limit well before the game ended. The inside battle definitely belonged to the Jayhawks, with Marcus Morris leading all scorers with 22 points and Markieff notching 17 to go with 7 rebounds and 3 blocks.
The two teams will meet again in Columbia, Missouri on March 5, which is the last day of the regular season for both. Successfully facing pressure was a good test for the 23-1 Jayhawks, who have only lost to the Texas Longhorns this season. Missouri, at 18-6, has fallen to sixth place in the Big 12 despite retaining a top-25 ranking, and has a long stretch of winnable games between now and the rematch. However, they must win all three home games and at least one roadie to finish the season above .500 in the Big 12.