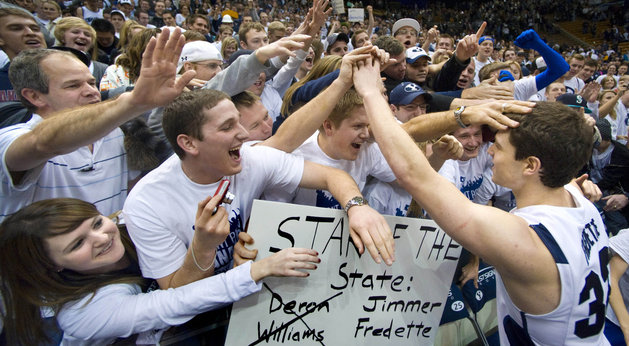 Posted by Matt Norlander
Nobody likes counter-culture snobs and knobs, except for other contrarians, who take a weird pride in hating going with the grain of what's highly liked and approved of by the masses.
Yes, how dare anyone hate on Jimmer, I ask?
In
this morning's Layup Line
I linked to a female's letter, one she
wrote
to the Brigham Young University student newspaper,
The Daily Universe
(yep, that's what it's called), vocalizing her disdain for the hero worship heaped on BYU's biggest basketball star in program history.
She probably should have kept her agitation at that. Instead, she took to Facebook — a new, deft tactic, to be certain — and broadcast her latest penning to the press. From there, BYU fans lurched on to her then-public profile (it has since gone private, according to my tipster) and
spammed the ever-living crap out of her wall.
It is a comedic gold mine, one I urge you to set aside eight minutes to scroll through and read. Here's how the chain starts.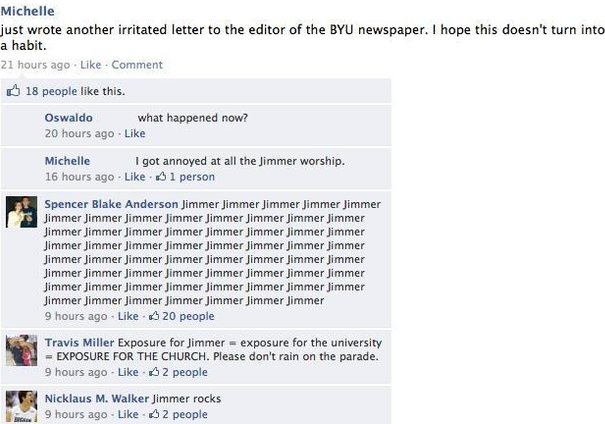 It's another great case of the Internet doing something incredible through word of click/link. The best part is, this isn't mean-spirited. It's entirely jocular and a terrific group-oriented online prank. The whole thing, according to my tipster, began late last night at Cougarboard.com. The posters on the site have certainly "won the Internets," as they say, for today. Heck, maybe the whole month.
That's the kind of power
we're dealing with here, thanks to Jimmer.
Other highlights not seen from the screen grab above, many of which make allusions to Mormonism. I'll only pick six, though I could list about 20.
"JIMMER IS THE GOLDEN CALF!!!!!!!"
"if Jimmer is nephi that makes tre'von willis laban"
"sullinger wears red, kemba wears blue, but they will get jimmered, oh and your facebook will too"
"I noticed in your letter that you accidentally forgot to capitalize some of your pronouns when you referred to The Jimmer. I am sure He doesn't appreciate that."
"Jimmer can kill two stones with one bird."
"jimmerboard.net because he never hits rim."
Photo: US PRESSWIRE