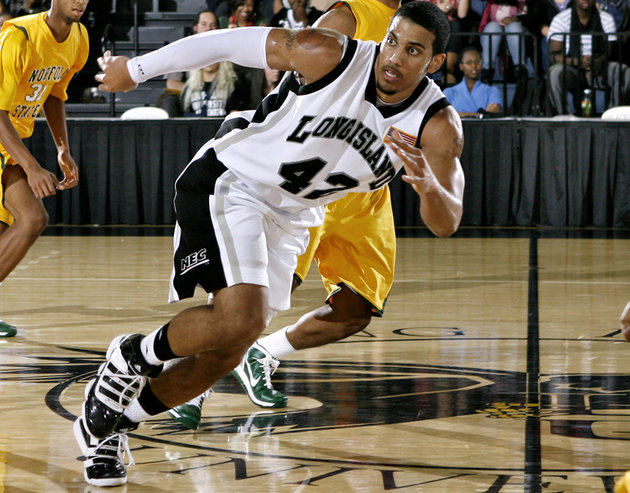 Posted by Matt Norlander
NEW YORK — A year after being demolished by attrition, Long Island University is thriving because of its health and depth. It's an ironic turn of events for head coach Jim Ferry.
The Blackbirds have quite the carousel this year, which wasn't the case at all in 2009-10, when LIU finished with a 14-17 record. While the team doesn't claim to have a centerpiece for this unexpected season, one that has the 18-5 Blackbirds atop the Northeast Conference with a 10-2 record, there is little denying Julian Boyd's return has been a huge catalyst.
In a fairly critical Feb. 5 game against league contender Quinnipiac, Boyd (above) is yanked from the court less than four minutes in — not for poor performance, but for health precautions. It's another typical game for the Blackbirds, one that sees five players in double figures. Boyd will finish the game with a team-high 16 points and 12 rebounds, his third double-double in four games. Boyd leads the NEC in rebounding (8.7 grabs per game). He's coming off a career-best 34-point, 16-rebound game at Fairleigh Dickinson on Jan. 27.
But he can't stay on the floor for more than six consecutive minutes. Few rarely do for Ferry this year, but Boyd's reason is different.
In July of 2009, Boyd was shooting in a gym in his hometown, San Antonio, when he started to endure cramps in his calves. He ignored it at first, but soon enough his entire body began cramping, his arms, back, and scariest of all, through his chest. Boyd was taken to the hospital — with the initial fear that his kidneys had failed — but when all the tests and physicals, the EKGs and MRIs, were through, doctors discovered the blood flow to his heart wasn't normal.
Boyd was diagnosed with noncompaction cardiomyopathy. His heart was too big and it wasn't taking on normal blood flow. The ailment caused Boyd to sit out all of last season. Danny O'Connor, the team's trainer of 14 years, hadn't heard of this kind of diagnosis in all his years on the job, even though heart conditions were something LIU had dealt with in the past.

"I did a ton of research," O'Connor said. "Usually it's found in someone who's middle-aged. And it's a fairly new diagnosis. Noncompaction cardiomyopathy wasn't found until the early-to-mid '80s."
Boyd felt frustration, of course, but now admits all that time watching the game from a different perspective helped him grow as a player.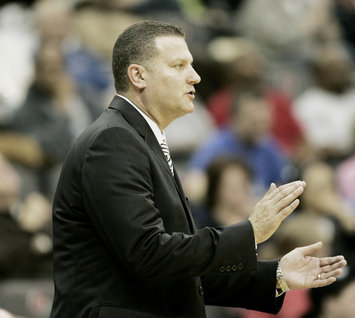 "After every test he wanted an answer," Ferry (left) said.
Ferry, who went to Keene State a little more than 20 years ago, had a teammate of his, Johnny Jennings, die of a heart attack a year after they graduated. The news was entirely too close to home.
"When he died … it was devastating," Ferry said. "But now there's more research, more technology and we know more about it. So when this happened to Julian … we said no. Here's a kid that felt really, really healthy. You look at his body; I always say he built like Superman. He could run all day and is never tired. He was like, 'I'm fine. I can play.' But I had to explain to him, 'No, you're not. There's something going on that we have to figure out.' And I didn't want to put his picture up in my office."
Jennings' picture is somberly displayed in Ferry's office to this day.
"Originally his doctors in Texas wanted to be a defibrillator in — and that could've ended his career right there — so we were suggested to get a second opinion," O'Connor said.
The opinion was he needed to step away from the game for nearly a year, alter his eating habits and simply take three kinds of pills/vitamins to get his heart back to normal. Boyd, who turned 21 on Feb. 2, takes three kinds of pills every morning and has his diet overseen by those around him.
"His heart functions normal, but he's still on medication," O'Connor said. "We do a lot of maintenance. During the game we want him to eat a lot of carbohydrates — oatmeals and pastas — to give him energy."
Boyd gets his electrolytes in many forms, from pills to Gatorade, putting them into his body every 20 minutes during games. He can be squishing raisins in his mouth (the magnesium helps reduce cramping) while he roots on his Blackbird teammates, a cooling towel draped over his shoulders and back as though he's this team's James Brown. In many ways, he can be defined as such.
The 14-or-so minutes per game on the bench Boyd sits aren't so much a problem this year for LIU. The Blackbirds get to seek their first NCAA tournament berth in 14 years, and just the fourth appearance in the Big Dance in program history, because few teams have the rotation the Blackbirds do, so few can score like them. Long Island averages 81.9 points per game (ninth-best, nationally, and tops in the NEC), and four players average double-figures. Three more are chipping in between 7.3 and 9.8 points per game. Boyd leads the team with 12.3 points per game, which only ranks as 20th-best in the NEC.
"Last season it just felt like we were all missing something," Hicks said.
Listed at 6-7 and 240 pounds, Boyd's game has expanded immensely. He's now a more reliable deep shooter (Boyd is shooting an effective field goal percentage of 54) and can push a fast break.
"To be quite honest, he responded a lot quicker than I thought he was going to," Ferry said. "I thought it was going to take until January."
This, combined with the frontcourt play of teammates Kenny Onyechi, who's also 6-7 and is a shot-blocker than Boyd, and Jamal Olasewere, another 6-7 sophomore, has turned LIU into a scouting nightmare for lesser-bodied NEC opponents.
What a turnaround. The team had no depth last year, played a horde of freshman, and still managed to make the NEC semifinals, where it lost to Quinnipiac.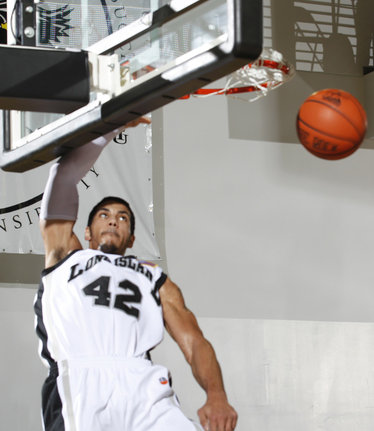 "Last year we were supposed to be very, very good," Ferry said. "But we had a senior star who went pro to support his family. Then we had a point guard who was going to start for us, and his mother came down with cancer, so he had to leave the program. We had three starters that left the team in August, September. We had a hard time regrouping from that."
This year, once Boyd got back into form — which coaches and players said took all of two games — the team was off and running, literally.
"Early in the season we were just rolling teams, beating them by 30 and 40. We kept asking coach, 'Are we really this good?" Hicks said. "Then we slipped up a couple times, took a couple of teams lightly that we shouldn't have. If it comes up that we end up winning this whole thing, then I guess the losses were worth it, to make us wake up and not take anyone lightly."
What other teams can boast about this sort of distribution: seven Blackbirds have led the team in scoring in a game this year, and 11 of the 13 players that have played this season have scored double-figures at least once. Ferry gets seven players at least 20 minutes per game, yet no one averages more than 25.1, the leader being Hicks. And here's a stat every coach can love: LIU leads the country in free throws (706) and free-throw attempts per game (30.7).
Records are falling left and right, the most proud perhaps being the 10 road wins in a season. The previous record of eight was set in 1996-97, the last time the Blackbirds went to the NCAA tournament.
"Julian is just that type of person that adapts," Hicks, a 6-1 senior guard, said. "He didn't try to do too much, just worked himself back in rhythm. It didn't make for us to jell together — we jell off the court, which helps us as well. There's no one who anyone doesn't like. We're always all together all the time."
With 3:47 remaining in the Quinnipiac game, Boyd shows why he won the Northeast Conference Rookie of the Year award two seasons ago. He receives the ball from atop the key and calmly cashes home a 3 with a hand desperately reaching out to act as a distraction. It doesn't, and with the bucket, Boyd gives LIU a 74-67 lead. That 3-point shot is a new weapon for Boyd this year, one reason why he's entrenched in talks about winning the Player of the Year in the conference.
And a big reason why Long Island could be dancing again next month, the first time in 14 years.
Photos courtesy Long Island University athletics