Posted by Eric Angevine

The Shawshank Redemption
has become an iconic movie for several reasons. For me, the line that runs through my head even when I'm not specifically thinking about the film is this one: "Get busy living, or get busy dying."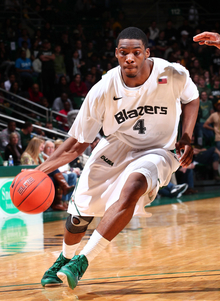 Watching college kids apply that maxim to winning a game in the face of adversity is one of the things that convinces me that college hoops, and sports in general, have real-world meaning outside of pure entertainment value. It doesn't matter where one learns the value of fighting against negativity -- from a movie, from playing a game or watching others play a game -- if the lesson sticks, some good has been accomplished.
That tenacious mindset is needed at Alabama-Birmingham right now, due to a
broken hand suffered by junior forward Cameron Moore
in Friday's practice. As the news circulated that the Blazers had lost their second-leading scorer and top rebounder, the
dispiriting reaction
is best summed up by this tweet from journalist Dan Wolken: "Wow, Cameron Moore is out for the season for UAB. That's a really, really brutal break for Mike Davis.
UAB season is done
."
Now, Dan Wolken has been covering C-USA for a long time, and he may prove to be prescient, but UAB has made the logical choice to keep fighting. With a record of 8-3 in league play, the Blazers are sandwiched between top-ranked UTEP (7-2) and third-place Memphis (7-3). They can achieve a bit of separation by winning tonight's roadie at Memphis (7:00 p.m. ET, CBS College Sports |
Video Preview
).
When a key player goes down, we tend to look for the cliched "step up" from his teammates. In Saturday's game at Rice (3-7), the Blazers had it in spades. In their home gym, where academic banners outnumber athletic totems, the Owls put together a 37-33 halftime lead. By the end of the game, UAB had a 74-68 victory, paced by a 37 point outburst from senior Jamarr Sanders (right). Sanders' big night was fueled by point guard
Aaron Johnson's record-setting night
, in which he became the school's all-time leader in assists.
"Give him the ball, that's all," Johnson said in post-game comments. "When he's hot, you've got to give him the ball.
He's the smoo­thest scorer I've played with my whole life
. It doesn't look like he's got 30 but you look up and there is 30 points up there. He's the man for this team."
It's good to have a reliable star, but the supporting cast will be crucial in making up for Moore's absence. British import Ovie Soko proved his worth, notching the game's only other double-figure scoring performance while also playing primary defense on Arselem Kazemi, the Owls' most dangerous player. In fact, his 10 points, 9 rebounds, 2 steals and 2 blocks made him the best bet to soften the blow from losing Moore's glass-cleaning skills. Mike Davis also rotated in Preston Purifoy, Anthony Criswell, Beas Hamga and Robert Williams to create a frontcourt by committee that may be able to hold the line.
Davis, the former Indiana coach, has said he hopes to have Cameron Moore back in time for a February 26 trip to Houston. A win tonight in FedExForum, against a Memphis team that has suffered its own fair share of bad mojo this season, would be a huge step toward UAB's first NCAA tournament appearance since 2006.
In other words, time for both of these teams to get busy livin'.