Posted by Jeff Borzello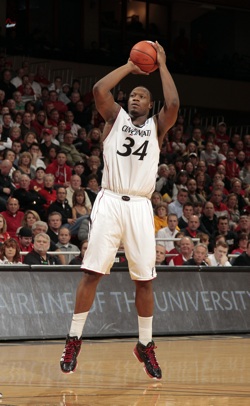 Cincinnati had everything an at-large team needed.
A nice record at 21-6. A solid conference record, going 8-6 in the Big East. Three top-25 wins and zero bad losses.
The only unimpressive aspects of the Bearcats' profile were their No. 119 SOS and their poor performance away from home: one road win against the top-100. Unfortunately, those numbers were keeping them out of the NCAA Tournament.
Tonight's win at Georgetown might be the missing piece that Cincinnati needed to lock up a bid.
The Bearcats went into Washington D.C. and sent a message to the selection committee, handling the Hoyas, 58-46. They jumped out to a 19-8 lead to start the game, then opened the second half with a 17-3 run and never really looked back from there.
Yancy Gates finally played to his potential, dominating the Georgetown frontline with 17 points and 12 rebounds off the bench. The Bearcats also knocked down nearly 54 percent of their 3-point attempts.
Defensively, they were helped tremendously by the Hoyas' worst performance of the season, although some of the credit needs to go to Cincinnati. Georgetown shot 25 percent overall, with players not named Austin Freeman going 5-for-35 from the field.
With the win, Cincinnati should be headed to the NCAA Tournament, as the tenth team from the Big East. The Bearcats are now 9-6 in the Big East, with four top-25 wins. They are not an official lock yet, as the remaining three games are tough: home against Connecticut, at Marquette and then another game with Georgetown. Win one of those three, and I think Cincinnati will be okay.
Come Selection Sunday, tonight's win over Georgetown might be the one the Bearcats hang their hat on.
They finally completed their profile.
Photo: US Presswire