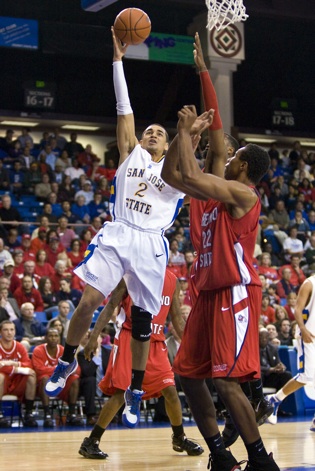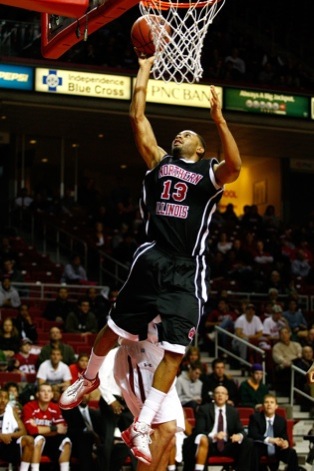 Posted by Jeff Borzello
Telling Adrian Oliver or Xavier Silas his prolific scoring numbers are a result of lesser competition is flat-out offensive, pardon the pun.
"I can score 30 points if I'm in another conference. To say I can't, that's ridiculous," Oliver said. "You still have to play against a defense. I know I can do it against anyone."
"You know, I've had nice numbers in the Big 12. If you look at efficiency numbers, it's hard to debate," Silas added. "I played really well against Kansas, and it doesn't get any higher than that."
Both players rank among the nation's top-10 in scoring, with Oliver averaging 24.4 points per game, good enough for third in the country, and Silas putting up 22.3, ranking eighth.
That's not the only thing the two seniors have in common, though. Both transferred from BCS-conference schools. Oliver, a 6-foot-4 guard, left Washington for San Jose State, while Silas, a 6-foot-5 guard, arrived at Northern Illinois from Colorado.
Oliver started 13 games his freshman year at Washington before suffering from injuries and family problems at the start of his sophomore year.
"It was just part of being a freshman, part of being young," he said. "Family comes before basketball, and I needed to bethere. It was my duty to come and take care of things. It wasn't anything to do with Washington. I made the right decision, and I'm still close with coach [Lorenzo] Romar; he's turned into a friend. I don't look back and say 'what if'?"
And why would he? The Modesto, Calif. native has been lighting it up ever since he stepped foot on campus. Oliver scored 80 points in his first three games and hasn't slowed down. He has put up at least 30 points on 15 separate occasions, including a 42-point performance earlier this season.
Being a marked man by opponents has only made him work harder.
"I know I'm the focal point of defenses, so I watch a lot of film," Oliver said. "I try to find where I can get an extra point here or an extra point there. I pay more attention to detail. I've worked extra hard, and it's helped me."
People have noticed – a spokesman for San Jose State said the school accommodated 45 NBA scouts in a three-game span last year. Moreover, Oliver has a chance to be the first player from a Bay Area school to finish in the nation's top-10 in scoring twice.
Silas went to Northern Illinois after a solid freshman season at Colorado, in which he averaged 9.7 points. However, when head coach Ricardo Patton left for the Huskies, Silas followed.
"The talent level is a little bit different," Silas said. "In the Big 12, the players were a little more athletic, a little bigger and stronger. But it's also harder, because I'm the focal point. Defenses are geared to stop me."
That clearly hasn't worked this year. Silas has dropped at least 31 points on seven occasions this season, including one five-game stretch in which he scored at least 34 points four times.
Even more impressively, his shooting percentages have skyrocketed this season despite the increased defensive attention. Silas is shooting 45.9 percent from the field and 41.3 percent from 3-point range after shooting 38.3 percent and 32.1 percent last year.
"I've worked on getting to the free-throw line, because those are free points," Silas said. "I want to be efficient on the shots I do take – I don't want to be a volume shooter."
If both players had stayed at their original schools, they might be getting more national coverage for their exploits. Oliver and Silas are just fine with the lack of attention, though.
"The people who need to know who I am know who I am," Oliver said. "If I want people to know who I am, I get in the gym."
Being listed alongside Player of the Year candidates Jimmer Fredette and Kemba Walker when people look at the scoring leaders is quite an honor for Oliver and Silas, but neither player is focused on individual scoring numbers.
Both are just happy that their hours in the gym are finally being recognized.
"It's nice because it shows a lot of hard work, but I don't really look at it," Oliver said. "It's not a finished product."
Added Silas: "It's supposed to be that way. After the hard work, everything's going how it was supposed to go."
Photos: US Presswire (Adrian Oliver), Getty (Xavier Silas)