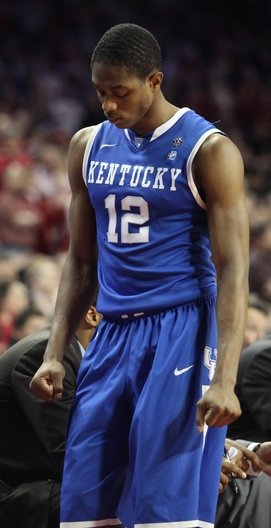 Posted by Matt Norlander
The fact Kentucky's lost four of its last seven games is most assuredly causing panic in Bluegrass territory today. That's as much a legitimate concern as it is the DNA nature of Big Blue Nation.
Arguments can be and have already been assembled that UK's not even the second-best team in the SEC anymore; Florida and Alabama have pulled away from the pack in the middling major conference. But the Wildcats, despite having a 19-8 and 7-6 mark in the SEC, are still
ranked ninth
by Ken Pomeroy's equations. It is 19th according
to Sagarin.
The numbers stand in opposition to what we're seeing from black-and-white, win/loss results. Last night, UK
lost in overtime, 77-76, to Arkansas.
The Hogs aren't a miserable group, but it's a game UK, with all its talent and coaching should win. Once again, Brandon Knight (right) missed a shot in the final seconds to give UK a win. In fact, in late-game situations, the team's not clutch because Knight has taken on the responsibility of trying to lead this team to a win down the stretch most often.
(The what-about-Terrence-Jones question hangs heavily in the air because of this.)
The team remains a fun, athletic watch, but what do we make of UK? Not so long ago, this was considered a group that didn't have a chance at a one or two seed, but it was certainly seen as a team that was taking on the label of Don't-Wanna-Play-Them come March.
And that's still going be the case. After all, if Kentucky slipped to a seven seed, how many of us would flirt with picking UK to make it to the second weekend if the 'Cats got, say, BYU in the second round.
The losses in the SEC — South Carolina is the only TRUE road game (Maui doesn't count) outside of Kentucky the Wildcats have won
this season
— have come by
an average of three points per.
So, yeah, UK's losing, but is it a bit unlucky? How do you qualify that? If a team can't win close games on the road, and it's certainly a pattern more than an aberration, does that signal something bad for March?
Probably not. After all, there are no road games in The Tournament — unless you're a one or a two seed and find yourself in a tight one in the second half of a first-round game.
Stats and numbers trends signal UK is still a dangerous team. It's still one of the best-scoring teams in the country that doesn't turn it over all that often, thanks to the play of Knight.
But a consistent showing of underwhelming play on the road against inferior opponents proves we no longer know what to make or predict of the Wildcats. In that sense, they remain as watchable and intriguing as they were last year, when five future first-round draft picks flooded the floor.
They have become the great unknown heading into March, which is ironic, because no program outside of Duke gets as much attention as this one.
Photo: US Presswire