Posted by Jeff Borzello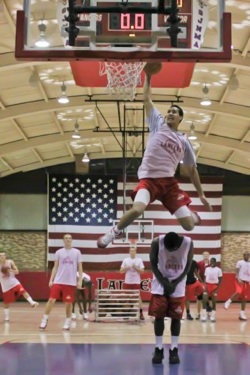 Maryland needed a big man to complete its 2011 recruiting class, and Gary Williams got his man on Thursday, as Martin Breunig committed to the Terrapins.
Breunig is a 6-foot-9 forward from Germany who came over to the United States before the season and has been attending St. John's Northwestern Military Academy (Wisc.).
"We talked yesterday, and it was just a thing where he felt so comfortable about it," SJNMA assistant Martin Esters said. "When he got back from his visit, I asked him if there was anything he didn't like about it. And he said, 'I liked everything about it.'"
Maryland was the only official visit Breunig took, although Virginia, Saint Louis, Arizona State, Oregon State, UAB and others were all involved.
"It was kind of hard for him to get recognized by a lot of high-major schools because we're a first-year program and he came over from Germany," Esters said. "But he played some high-caliber games, especially in Rhode Island at the National Prep School Invitational."
Breunig is a versatile forward who can play all three frontcourt positions. He uses his aggressiveness and athleticism to create match-up problems at the offensive end of the floor.
Esters said Breunig will likely play the four at the next level.
"They have some openings at the four," he said. "They didn't tell Martin that he's going to play there for sure or anything like that, they didn't make any promises. But he's got a good shot at it. He's going to really compete for the four spot, with Dino Gregory graduating."
With two other international players on the team, Haukur Palsson from Iceland and Berend Weijs from the Netherlands, Breunig immediately felt a connection with the Terrapins' roster.
"When he got here, he didn't know the difference between Duke and Wisconsin-Green Bay," Esters said. "So even the fact Maryland won the championship in 2002, that didn't play into his decision at all. Having a legendary coach, that wasn't what he was looking for. He just thought it was a good place where he could develop."
Maryland loses three seniors for next season, meaning Williams will have a young team at his disposal. Still, the Terrapins have double-double machine Jordan Williams down low and a host of talented perimeter players, namely freshmen Terrell Stoglin and Pe'Shon Howard, as well as incoming recruits Nick Faust and Sterling Gibbs.
Breunig can certainly be an impact player in the ACC once he develops and gets some playing time under his belt.
"He is really skilled for his size and a big-time athlete," SJNMA assistant Bryan Clayton said. "He could be a steal."
Photo: St. John's Northwestern Military Academy