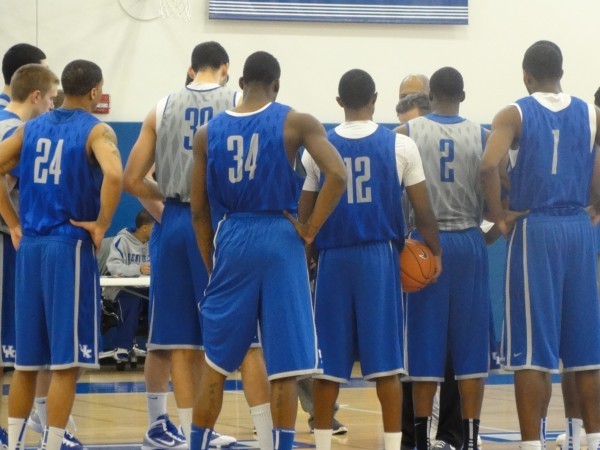 Posted by Matt Jones
On Saturday afternoon, Kentucky defeated Florida 76-68 in Rupp Arena in Lexington, Kentucky. In the 24 hours leading up to the game, CBSSports.com was given an all-access look at the team and its preparation for a big SEC home game. Over three parts, Matt Jones will detail the team's activities, beginning with practice the day before through Saturday's game. Preparation varies from team to team, but Kentucky's process is similar to many other programs. Part one ran over the weekend. This is part two. Part three is coming later this week.
Last Friday and Saturday, before during and after Kentucky's game against Florida in Rupp Arena, CBSSports.com was given access to UK's preparations. Matt Jones followed the team for the 24 hours prior to the game in Lexington. Part I of the series ran on Monday and Part II focuses on the game day preparation prior to tip-off: Most college basketball teams follow a similar routine on the morning of a game. Virtually every team has some form of a shootaround, usually followed by a pre-game meal before heading to the arena.
The schedule varies based on start time and whether the game is home or away, but game day for teams in college basketball looks relatively similar everywhere. For Kentucky's game against Florida, start time is at 4 p.m., meaning the morning shootaround begins at 10:30 a.m. By 10 a.m., a number of the players are on the court getting in early work.
Brandon Knight is shooting three pointers in the corner, Darius Miller is working on his mid-range game and Josh Harrellson is balancing a mixture of post play and commenting on everything in sight. The atmosphere is loose considering the stakes of the battle taking place in only a few hours. With Kentucky at 19-8, 7-6 in the SEC, the game against Florida isn't must-win to get in the NCAA Tournament, but it is crucial for seeding purposes. Kentucky is still in contention for a bye in the conference tournament and hopes to still find a way to get a top-four seed for the NCAA tournament.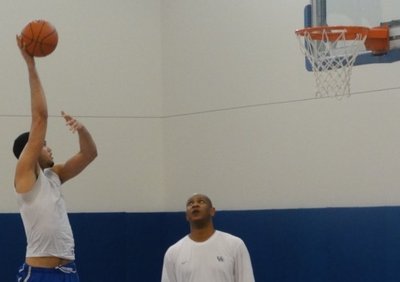 The Cats haven't lost a home game in two years under John Calipari, but Florida is likely to win the SEC and a slight confidence crisis set in after a loss to Arkansas on Wednesday. Calipari says he's not concerned about fan-base confidence -- "it comes with the territory," he says -- but is concerned about his unit's spirits. He begins the shootaround by saying, "Guys, we can do this. They have won some close games and we have lost some close games. But I believe in us. One way or another today, up or down, I still believe we can hit our goals and get it done."
As the team breaks the huddle, Calipari walks to the side of the court to talk to a couple of Kentucky staffers. Perched atop the UK practice court is a viewing area filled with a group of 20-25 fans decked in blue, observing the shootaround. No one in the gym is exactly sure who these people are and with such an important game, they represent a needless distraction.
Frustrated, Calipari asks a UK staffer, "How can we have all of these people up top on a day like today?" The onlookers remain for the rest of the 40-minute session. While most of the previous day's practice was spent working on defending Florida's scorers, Calipari spends the early part of the shootaround working on Kentucky's offense.
The Cats focus on breaking the press quickly in order to create open three-point shots. The blue team (the starters) breaks the press easily on the first three possessions, but misses open shots each time in transition. Calipari begins pacing quickly and blows his whistle in disgust. He walks towards the latest bricklayer, Doron Lamb, and screams, "Start making shots. We aren't going through this and breaking the press to get good looks just to have you all miss these easy shots. What are we going to do at 4 o'clock on national television? MAKE A SHOT!"
Immediately after making his point, Brandon Knight hits an open three on the next possession and Calipari seems to forget the three prior plays saying, "See, if they give us open threes, they are nuts. We will make them all." That contrast between aggressive coaching, followed by quick affirmation is a microcosm of Calipari and this team. "You can't treat this group like the last few I have had," Calipari says later. "They feed off of me and I have to tell them 'We are going to win and I believe in you,' or else they will not play to their potential." The team continues to move through its offensive sets, but Calipari wants more enthusiasm and communication on the court. He screams, "I want NOISE....AAAARGGHHHH! The sound of victory is noise. The sound of defeat is silence." The players start to clap and talk on the next possession, but the energy quickly fades.
Regardless of what Calipari tries, this is a reserved group and communication on the court remains less than optimum. The final half of the shootaround is focused on going over Florida's basic offense, its simple inbound plays and each individual player's tendencies. As with the day before, the focus is on forward Chandler Parsons. Calipari makes clear how he wants Kentucky to play the senior. "What do we want Parsons to do? We want him to shoot. You remember that free throw he took that went like that (Calipari throws the ball off the side of the rim). We want him to shoot. But we can't let him shoot inside, because he can make layups."
Assistant coach John Robic works with the players on a particular inbound play that he says Florida is "certain to run." He tells Lamb to watch for Parsons cutting through the lane, as the play is designed for an open layup. Lamb shakes his head and says he understands, but the final time the play is run, he is once again a step slow on the rotation, leading to a wide open layup. The session ends with Calipari harnessing his inner Tony Robbins once again: "I believe we've got the better team. I believe we've got the better players. Today we prove it." The team breaks the huddle and practice in the same way that it finishes every pregame shootaround. Beginning with the assistant coaches, all associated with the team take a half-court shot and the group is dismissed when one is made. Robic, who describes himself as the master of the shot, goes first after having made 10 so far this season. When his shot goes off the back iron, he falls on the floor in mock disgust.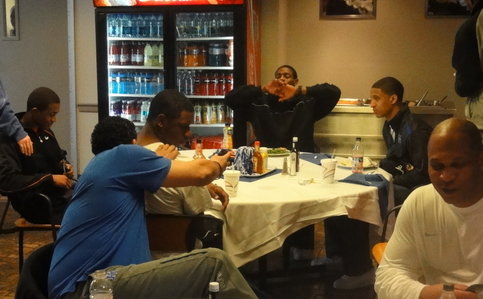 The other coaches all take their attempts with varying success and most of the players miss their heaves as well. It is not until nearly everyone has gone that a shot finally goes through. The successful marksman is walk-on Jarrod Polson, who looks so young that his teammates call him "Bieber." His teammates congratulate him by circling around and collectively messing up his teen idol hair before exiting for their pre-game meal. As Calipari leaves, he notes concerns he has about this team going into the end of the season.
"We never got a swagger with this group," Calipari said. "We actually execute better than last year's team but we don't have that instinct to go get a rebound and be tough to win the game. The other teams are playing out of desperation to beat us and we don't have that aggression to give back to them." When asked his 0-6 record in games decided by less than five points and his lack of an obvious go-to player in the game's closing moments, Calipari is philosophical: "I hope that guy is Brandon (Knight). But too many of our players are saying 'we are going to win, and I hope one of our guys does it.' They all want to win, but they are all hoping it is the other guy who does what it takes." Still, Calipari remains confident. "We are what our record says we are, but we are close to being a lot better.
That game we lost at Ole Miss is the worst one of my teams has played in six years. And it still took a 26-footer to beat us. We are close man, we are very close." After a quick change of clothes, the team arrives in Joe B. Hall Wildcat Lodge for its pre-game meal. The Lodge is the housing quarters of the college basketball team and students who hit the jackpot in the UK housing chase. The team meal includes steak, chicken, various forms of sandwich meat, pasta, numerous vegetables, salad and virtually any type of water/energy drink imaginable. It is the same general pregame meal that Calipari has utilized since his days at UMass, but I am told that at Kentucky, "it is a little bit more extensive." Most of the players actually eat very little of the food, with the meat far outclassing the vegetables in popularity.
The coaches and staff chow down extensively, proving that no matter the salary, everyone likes a free meal. After the players finish, Robic stands up before the team for the final Florida overview. On a small overhead television, he shows film to the team of 15-20 Florida plays from the SEC season. This represents the extent of Kentucky's "film work" for the game. Unlike a number of teams, who spend a great deal of time watching film and exploring team's tendencies, Calipari believes the players learn best on the court. Robic later says, "We know their attention spans are short and we think they learn more by doing than watching." Robic shows the team how Parsons is crucial to everything Florida tries to do offensively. He tells the group, "Parsons has been the X factor in every one of their games.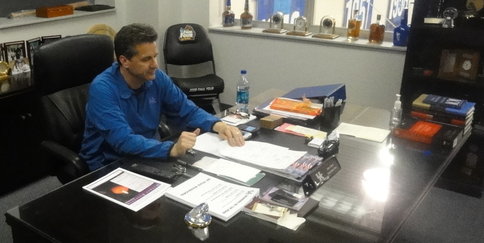 Darius, you got him and remember the biggest thing you can do is keep him off the glass and make him shoot from outside." As Robic goes over the film, the players vary in their level of attentiveness. Some are glued to the television, while others' eyes wander off to distractions around the room. Like a mischievous third grader, one player pokes a teammate in the rib every time Robic turns toward the television, to the obvious annoyance of the receiver. Robic then presents a player by player breakdown of the contributors on Florida's roster, with bullet points of their strengths and weaknesses. Most of them are familiar to Kentucky's players as the two rivals know each other well.
When Robic speaks about guard Kenny Boynton, he tells Knight (who grew up playing in high school and AAU against the Florida star), "You know him better than I do. He is going to score but you know what you can do against him. He is yours to handle." Robic goes through the roster before finishing his gameday thoughts with the exact message communicated by Calipari at the end of Friday's practice. He looks at Darius Miller, a talented junior forward who has struggled with inconsistency, and says, "Darius this game is all about you. They can't guard you off the dribble. No matter who they put on you, they can't guard you.
You can be the difference." Miller shakes his head in agreement. The coach dismisses the team before the 2 p.m. bus trip to Rupp Arena. Some players meet with a team chaplain, while others head to their rooms to kill the remaining hour. Nothing is said about the importance of the game and if one didn't know better, he could easily believe that this was the end of a normal lunch hour at a summer camp, not game day in a big-time college basketball program. Before I leave to head to the arena, I hear one player say to another, "You know I am right. You sweat her, don't lie." A realization then hits me. Even though 24,000-plus fans in the arena and an entire state outside the arena are nervously awaiting the crucial conference game to come, the players are giving each other a hard time about college girls they both know.
Even though some will be NBA millionaires in only a few months and all carry a certain amount of pressure by playing basketball at Kentucky, at the end of the day, they are typical college kids leaving a very atypical college life.