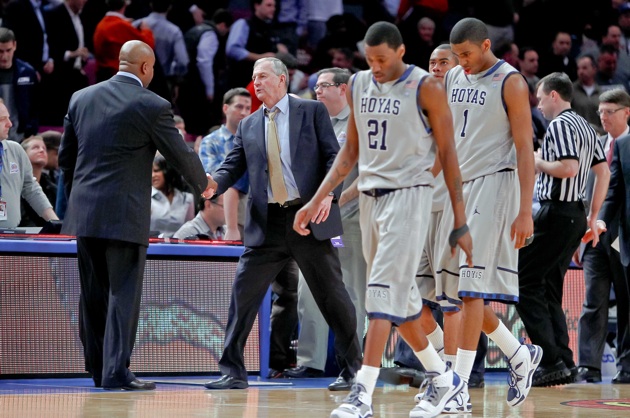 Posted by Matt Norlander
NEW YORK — The second swoon continues.
Georgetown's 2010-11 season could be visualized and contextualized in the form of a parabolic chart: it was up for a while, then down for a while, then up for a real good while, and now it's in on the verge of flat-lining.
Fortunately, Chris Wright is scheduled to be available next week, and that's all that really matters at this point. The Hoyas' 79-62 loss in the second round of the Big East tournament Wednesday afternoon was uneventful, uninspiring and failed to live up to the matchup it presented on paper.
Good on the Huskies for taking care of business and getting back on track. But the Hoyas were also in a mire heading into this one, and they remain there. Without Wright, the Hoyas aren't the Hoyas. We all know that.
Connecticut's Jim Calhoun knows that.
"We understand, without Wright, Georgetown's not the same team," he said.
Georgetown coach John Thompson III knows that better than anyone.
"We miss Chris, absolutely, 100 percent, at both ends of the court in every way," he said. "But the group that played tonight, right now, has to be better."
Thompson sounded dejected and, to be honest, a bit lost at what he watched his team to. His greatest confidence is that Wright will be back for the NCAA tournament. As far has he's concerned, judgments made about Georgetown without Wright will be made moot next week.
"We are absolutely anticipating that, yes," he said. "When you lose someone like Chris, it's not a question of who is going to be plugged into his position, but everyone has to step it up. Everyone has to produce, and that hasn't happened yet."
It may not need to happen, so long as Thompson's words come true and Wright's around for the first round of the NCAAs.
"I don't know, time will tell," Thompson said. "Regardless of the prospect of Chris coming back, the group that played today, we have to clear our minds and be better."
It's not a question of this team needed to regroup or clearing its mind. Over the next week, Thompson needs to settle his team down. How will he approach the elongated break?
"I don't know yet," Thompson said. "We just lost a few minutes ago."
Austin Freeman and Jason Clark weren't terrible, for the record. In fact, they played fairly well without the third man in their triumvirate. But UConn schemed to turn them over as much as possible in the first half. It worked. After a close opening 10 minutes, Georgetown was stalled consistently and turned the ball way too much.
"That definitely was a large part of it," Thompson said of his team's inability to climb back into the game.
Said Clark: "We're still a confident team. We know we lost a couple in a row, but we know what we've got to do to win games."
Last year in the Big East tournament, Austin Freeman lit up UConn for 31 second-half points. To curb a repeat of that horrow show for the Huskies, Calhoun put Roscoe Smith on Freeman because of his length.
"That wasn't going to happen this year — someone else was going to have to beat us," Calhoun said.
As for Connecticut, how about this being the first two-game winning streak in the Big East tournament for the Huskies since ... 2004? Absolutely. And that was the last time UConn won the Big East tourney.
"I don't know if we've quite caught it, but just from our body language, I thought we were loose offensively," Calhoun said. "We know we have the toughest opponent in the league coming up [Pittsburgh] tomorrow, but that's what we play for — to get there."
Until this year, the team was on a five-year losing streak. Now, two down, and top-seeded Pittsburgh awaits. And the last time those two teams played in the Big East tournament? It was 2004 title game. Doesn't seem like it's been seven years, does it?
Photo: US PRESSWIRE