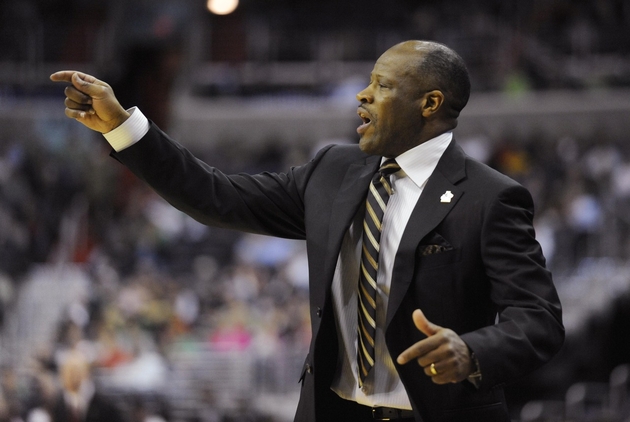 Posted by Eric Angevine


Amidst all the general fun of preparing for the NCAA tournament, quite a few coaches got bad news this weekend. So let's take a look at some of the big ones and try to get a handle on where each program may turn.
List of D-I coaching changes

First, a ground rule. I'm going to assume that interim coaches will not be retained. Loyal assistants tend to get jobs when a successful boss moves up the ladder, not when he's fired. In addition, coaches who are currently playing in the NCAA tournament will be targeted, but can't be taken seriously as flight risks until we see how they fare in the Big Dance.
Fired
John Pelphrey (69-59 at Arkansas):
This move feels one season premature. Pelphrey spent this summer tracking down elite talent for the Razorbacks, netting a top ten class. Off-court issues may have contributed heavily here. Several Arkansas players were suspended last season while being investigated for rape, and Pelphrey was recently implicated in a minor recruiting scandal. If Arkansas administrators can get their top choice, Mike Anderson, the recruits will probably stay, but they won't be able to get serious about that until Missouri is knocked out of the NCAA tournament. Also, the first person Anderson will talk to about the job is his mentor Nolan Richardson, who parted company with the university under a cloud. Marquette's Buzz Williams has also been mentioned as a prominent candidate.
Paul Hewitt (190-162 at Georgia Tech):
If Pelphrey got a short leash, Hewitt got the longest. Five NCAA appearances in 11 years isn't a bad accomplishment, especially when one of those went all the way to the championship game. The problem was that the seasons in-between were so bad. The Yellowjackets were 11-17 in '05-'06, 15-17 in '07-'08, 11-17 the year after that and 12th place in the ACC. Finishing tied for 10th this season was the last straw. AD Dan Radakovich has indicated that he's willing to spend top dollar to get an elite coach, but speculation so far has centered around Richmond's Chris Mooney, Alabama's Anthony Grant and Xavier's Chris Mack. The Atlanta Journal-Constitution reports that Tech legend
Kenny Anderson has expressed interest
in coming on as an assistant, which could only help recruiting.
Keno Davis (46-50 at Providence):
I've always felt that the odds were against Keno from the beginning. He had only been a head coach for one (admittedly strong) season at Drake before moving up to the big time, which didn't give him much experience to draw upon. He wasn't from the area and had no ties to the program, really. Losing games might not have gotten him fired this quickly, but the offseason criminal activity of his players and a litany of de-commitments from recruits pointed him out the door. Some fans are calling for the return of Pat Skerry, who left Davis to become an assistant at Pitt last year. Other names are Fairfield's Ed Cooley, Duquesne head coach Ron Everhart, and Harvard's Tommy Amaker. Syracuse assistant Mike Hopkins has wide support as well.
Pat Knight (50-60 at Texas Tech):
Pat never really had much of a chance at Tech. Even his father had a hard time making the program truly relevant, but he brought enough of the national spotlight that Red Raider fans now crave more. The search has really zeroed in on two candidates at this point, and both are available. Billy Gillispie had his greatest career successes in his home state of Texas, and would add some steak to the sizzle the program wants if he is hired. Tech fans are also looking at current Nebraska coach Doc Sadler, who was an assistant at the school from 1991-1994, coaches tough defense, and has the drawl and personality that could make him a good face man for the program.
Jim Boylen (69-60 at Utah):
Rick Majerus made it a sin to lose at Utah, and Jim Boylen lost quite a few over the past two years. Not only games, but players. There was a mass exodus after the '09-'10 season, which led to more losing this year. As the Utes head to the Pac-12, it's time to show that they belong on the big stage, and they'll do that by chasing a top-flight coach. No doubt, they'll wish-list Mark Few, as most Western programs do, but he's proven difficult to lure. One sensible choice that's been bandied about is Dave Rice, an assistant to Dave Rose at Brigham Young. Some have suggested that Virginia's Tony Bennett may be lured back to the expanded Pac-10, and St. Mary's Randy Bennett and Old Dominion's Blaine Taylor have generated some interest as well. Would New Mexico's Steve Alford like to get a piece of this action?
Just as the firings began to come in earnest following postseason losses, so will the hirings. The difference being that losing in your conference tournament means you get fired, and losing in the NCAA tournament means you get hired.
Photo: US Presswire