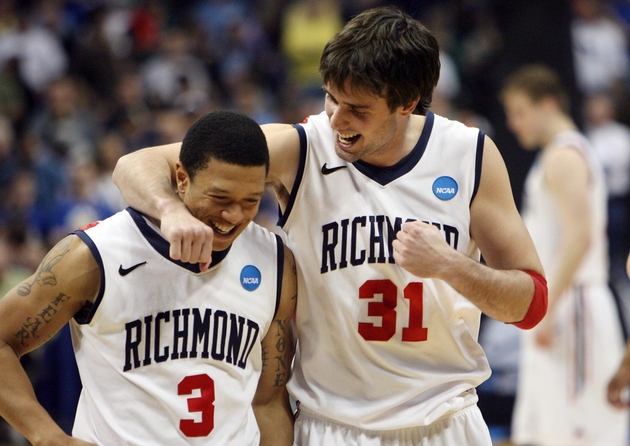 Posted by Eric Angevine

Here we are with three days of NCAA tournament action in the books, and three teams from the Commonwealth of Virginia are still alive. Not Virginia or Virginia Tech, either. Those ACC power schools weren't invited. But George Mason, from the D.C. suburb of Fairfax, is still alive after beating Villanova. Two of the teams still in it are from the same city. The Richmond Spiders and Virginia Commonwealth Rams both call the central Virginia city home. Old Dominion, which was narrowly defeated by Butler, is yet another mid-major powerhouse from the same state.
Much of this bounty has to do with the Colonial Athletic Association, which operates out of a headquarters building in Richmond, overseeing a 12-team basketball conference that has five members from within the state borders. All three of the CAA teams that made the dance came from that handful. Richmond, on the other hand, is in the burgeoning A-10, though the tony private school, formerly a basketball member of the Colonial, still plays FCS football in the CAA.
All four NCAA tourney programs have developed into regular dancers by finding the diamond in the rough -- which any team can really do -- and polishing them to high shine, which few programs can. Case in point would be Richmond's Kevin Anderson, who was
profiled in the Richmond Times-Dispatch
recently.
The Spiders signed Kevin Anderson, their superb senior point guard, in the spring of Anderson's senior year in high school.

Players who sign in the spring usually are afterthoughts, given scholarships because a more sought-after recruit fell through. Anderson, who is just 6-feet tall, really wasn't even on anyone's backup list.

"I don't know if his size is what scared people away," said UR coach Chris Mooney. "I guess so. But his intelligence on the floor and ability to make shots is so incredibly impressive. We knew right away we had someone very special.

"It's very rare to get a 2,000-point scorer in the late signing period."
You'd think that keeping kids at home might play more of a role in that kind of success. It definitely has its place, but Anderson came from Atlanta, GA, and only his teammates Darien Brothers (No. 3, above) and Justin Harper are from Richmond, let alone the state of Virginia. Chris Mooney puts in the legwork to keep UR on top.
VCU has four locals, and Mason has two, including second round hero Luke Hancock, who hails from Roanoke. That city, in the southwest corner of the state, is prime Virginia Tech recruiting territory. Just goes to show that a hustling mid-major coach can get what he needs, no matter who he's up against.
Richmond is already in the Sweet 16 after beating Morehead State on Saturday afternoon, and VCU and Mason have both defeated Big East also-rans to advance to the third round of play. VCU even had to play in the first round just to get this far.
If you're a D-I prospect, and the big boys aren't paying enough attention to you, don't fret. If you can get a good look from someone in the nation's 10th state, odds are you'll have a very productive career that will take you where you wanted to go in the first place.
Photo: US Presswire