Posted by Jeff Borzello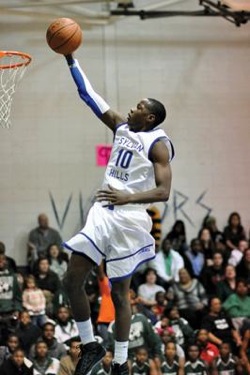 Lost in the story about John Pelphrey being fired by Arkansas and the picture he took with a prospective recruit was the recruit himself.
Archie Goodwin, ranked No. 18 in the nation by Scout.com, was the player in the photo. Of course, the fallout from the photo is the last thing the 2012 prospect wants to talk about – he's ready to focus on the upcoming AAU season.
Based on his school list, it's obvious his recruiting has not been affected.
The 6-foot-5 shooting guard from Sylvan Hills (Ark.) is hearing from Kentucky, Louisville, North Carolina, Missouri, Arkansas, Baylor, Kansas, Connecticut, Georgetown, Tennessee, Auburn, Marquette and Texas.
Goodwin said he doesn't have a top 10 or a leader at this point, but four schools pique his interest the most.
"All of them are coming pretty hard, but schools like Kentucky, Kansas, North Carolina and UConn are always going to stand out," he said.
Goodwin has taken unofficial visits to Kentucky, Arkansas, Baylor, Memphis and Tennessee. While he enjoyed his time at each school, one of the trips was slightly more memorable.
"Kentucky," Goodwin said. "I really enjoyed it down there. All of them were great, but Kentucky was really good."
Only a junior in high school, Goodwin has no plans to make a decision anytime soon. He said he would wait to take more visits and then choose a school sometime next year.
"A school that's going to challenge me on and off the court, and [one] that is family-oriented," he said when asked what he was looking for in a school.
During the high school season, Goodwin led Sylvan Hills to a 25-4 record, averaging 28 points, seven rebounds, three assists and two steals per game. He was the Gatorade Player of the Year in Arkansas, but still has a sour taste in his mouth because of a loss in the state championship game.
"[Winning the award] felt pretty good," Goodwin said. "The championship would have felt better though."
Goodwin jumped onto the scene last spring at the NIKE Hoop Jamboree, and only solidified his status during an impressive summer. He is a very good player at both ends of the floor, using his aggressiveness and athleticism to score at will offensively. Defensively, he has good size and length, as well as the will to guard opponents.
His two weaknesses are strength and 3-point shooting, but he is making a point to improve while on the AAU circuit with the Arkansas Wings.
"Getting stronger and improving my shot and ball-handling," Goodwin said when asked what areas he was focusing on. "Doing pretty much everything."
Always the consummate teammate, Goodwin's biggest goal this spring and summer has nothing to do with a personal goal.
"I want to win the Peach Jam and to get some of our plays more out there in recruitment," he said.
Photo: Premierball.com