Posted by Jeff Borzello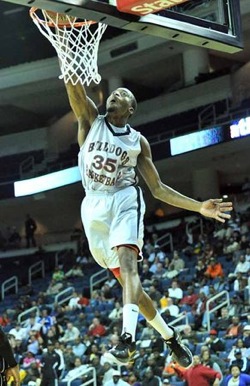 It hasn't even been a full day since Bruce Pearl was reportedly fired by Tennessee, but the fallout has already begun.
Kevin Ware, one of two signees for next season, asked for a release from his letter-of-intent today.
"It was just a lot of stress with all of the reoccurring problems going on up at Tennessee," Ware said. "I couldn't focus on school without some bringing to my attention what was going on in Knoxville."
Ware, a 6-foot-4 shooting guard from Rockdale County (Ga.), is ranked as one of the top-25 players at his position by Scout.com.
While Georgetown, Florida State, Florida and Georgia were on his final list before making his original decision, Ware has no idea where he will end up next.
"I won't know what schools are really looking until the release forms go through," Ware said.
He did say he would reconsider Tennessee based on who fills Bruce Pearl's shoes as the next head coach.
Villanova picks up five-star center
Daniel Ochefu, ranked as the No. 15 player in the class of 2012 by Scout.com, verbally committed to Villanova today.
Ochefu, a 6-foot-9 big man from Westtown (Pa.), chose the Wildcats over Georgetown, Texas, Temple and others.
He confirmed the news in a text message to CBSSports.com.
Indiana adding to 2012 class?
A source informed CBSSports.com that 2012 prospect Jeremy Hollowell will commit to Indiana this week.
Hollowell is a 6-foot-7 small forward from Lawrence Central (Ind.), and is ranked as the No. 23 player in the country by Scout.com.
Cincinnati, Ohio State and Purdue are also in the running.
Razorbacks' recruit in a holding pattern
People who were against Arkansas getting rid of John Pelphrey a couple of weeks ago pointed to the Razorbacks' highly-touted recruiting class as a reason to keep Pelphrey.
Based on which coach Arkansas hires, that class could be in danger of falling apart.
B.J. Young, the No. 19 player in the class of 2011, is currently undecided on whether he will stick with the Razorbacks.
"As of now, [he's still committed]," St. Louis Gameface coach Richard Noll told CBSSports.com. "He's not doing anything until they hire a new coach."
Young, an explosive 6-foot-2 point guard from McCluer North (Mo.), doesn't have a specific preference for the next coach.
"He just wants to play for a coach that fits his up-tempo style of play," Noll said.
Photo: Atlanta Journal-Constitution