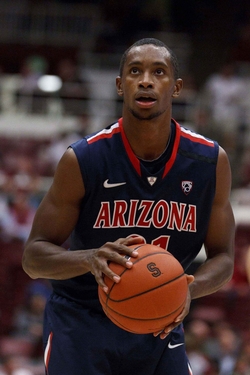 Posted by Eric Angevine

ANAHEIM, Calif. -- So, Arizona lost in the Elite Eight on a very close final score of 65-63. We're all assuming Derrick Williams will declare for the NBA draft, and that he probably can't tell us with any certainty what he's going to do just hours after a loss. But he should go: he'd be wasting his time in college next year. He's ready now. I know from hearing Arizona coach Sean Miller talk this weekend that he expects Williams to depart.
We saw some real improvement from Williams' teammates over the course of the tournament, so even if Williams does leave, Arizona should be in good shape. Jesse Perry was rugged on the interior, scoring 14 points and hauling down seven boards, much of that production coming when Williams was saddled with foul trouble in the first half. He'll be a senior next year.
MoMo Jones, a sophomore, has shown real leadership despite his youth. If he can score a bit more, he'll become more valuable to the team. He may very well be capable of just that, but his job this year was to pass to Williams whenever possible. Kyle Fogg (right) has shown a deadly shooting stroke, and he and Kevin Parrom did well guarding college basketball's most dangerous player: Kemba Walker. 6-foot-7 Solomon Hill has shown a knack for rebounding.
The real plus is the incoming class of freshmen. Sean Miller landed an excellent crop for next year, and getting the Elite Eight experience for his sophomores and juniors will allow the new guys to fit in gradually.
Let's take a look:
Nick Johnson, 6-3 SG: Like the current players Miller puts on the court, Johnson is a transition threat with athletic ability. He can throw down a dunk when called for, which was a hallmark of the Wildcats' run to the West region final. He'll provide a slasher to go with Fogg's shooter.
Josiah Turner, 6-3 PG: Turner looks like a perfect complement to MoMo. He's known as a scoring combo guard with point guard skills. He can pass or score, and he has the strength to take the ball inside. More strength in the guard corps for Sean Miller.
Angelo Chol, 6-8 PF: Chol is one of the gems of Miller's class of 2011. He is long and athletic, and can shoot. He's not the bulkiest guy around, but a year in the weight room at Arizona should fix that. Chol has the instincts of a shot-blocker, which could come in very handy for next year's version of the Wildcats.
Sidiki Johnson, 6-8 PF: Johnson is a bit heavier than Chol, so he's good for the inside muscle jobs. Still, like everyone Miller is recruiting, he can run the floor. Get used to track meets in Tucson. Johnson gets the offensive putbacks, which could make him a very dangerous weapon with his ability to move.
Each of these guys is a top talent at his position. And let's remember that Miller has taken players that weren't that highly rated and made them his kind of guys. If he starts out with top talent next season, there's no reason he can't take the 'Cats back to the Elite Eight. He'll have to figure out which of these guys is the main scoring option, but he'll have time for that. And now that he's announced the return of the Arizona of legend, expect more top high school players to commit to his program.
Photo: US Presswire