Posted by Jeff Borzello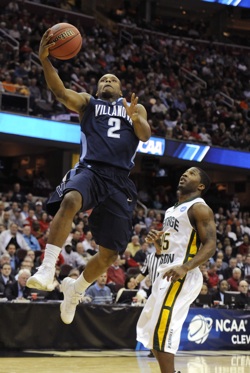 Losing guards Corey Fisher and Corey Stokes will hurt Villanova enough, but the Wildcats' perimeter had the potential to be completely gutted.
Sophomore Maalik Wayns was considering entering the NBA draft, while classmate Dominic Cheek was rumored to be a possible transfer.
This week, both players lay to rest all the chatter, confirming they would be returning to Villanova next season.
On Monday, Cheek said on Twitter that he was a "Villanova guard for life" and then retweeted a response that indicated he wasn't transferring.
Wayns followed on Wednesday with his own announcement. "Just to let everybody know I'm definitely coming back next year," he said on Twitter. "Let's get it."
Wayns, a 6-foot-2 point guard, is an explosive playmaker that averaged 13.8 points and 4.5 assists, while Cheek is a 6-foot-6 wing that put up 5.6 points off the bench this season.
Next season, with Wayns and Cheek leading the way on the perimeter, Jay Wright will field a capable team. Mouphtaou Yarou will develop into the team's best post player, while Isaiah Armwood and Maurice Sutton came on strong towards the end of the season. In terms of the newcomers, expect combo guard Tyrone Johnson to make an immediate impact with his strength and his ability to get into the lane.
Wright won't have the same type of talent he has in recent years, but the return of Wayns and Cheek ensure Villanova won't fall too far.
Photo: US Presswire