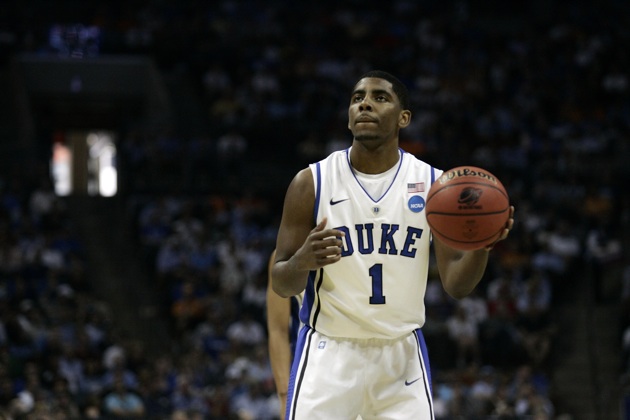 Posted by Jeff Borzello
It was only 11 games, but it certainly was an enjoyable 11 games.
Duke freshman Kyrie Irving announced on Wednesday that he would hire an agent and enter the NBA Draft. He is likely a top-five pick and could go as high as No. 1 in June's draft.
"Our whole program is overjoyed with having Kyrie here for one year," Duke coach Mike Krzyzewski said. "We are totally supportive of Kyrie, his family and his decision."
Irving, a 6-foot-2 point guard, played in just 11 games this season because of a injured toe on his right foot. He missed 26 games before returning in the NCAA tournament, where Duke lost to Arizona in the Sweet 16.
Irving averaged 17.5 points, 3.4 rebounds and 4.3 assists per game this season, cementing himself as one of the top players in the country.
While it comes as no surprise that Irving entered the draft, the loss still clearly hurts Duke. Throw in the fact All-American Nolan Smith and forward Kyle Singler are also gone, and the Blue Devils could take a step back.
Leading the returnees will be guards Seth Curry and Andre Dawkins, two high-volume shooters that had their moments during the course of Duke's season. Miles Plumlee and Ryan Kelly return in the frontcourt, but the key will be Mason Plumlee. One of the most talented big men in the country, the middle Plumlee has yet to string together consistent outings down low.
The incoming freshmen class will also be important. Austin Rivers, the best pure scorer in the high school ranks, will make an immediate impact in the backcourt. Quinn Cook was another McDonald's All-American; he can run an offense and makes teammates better. Michael Gbinije is a wing scorer that is deadly with his mid-range jumper.
Irving would have obviously formed one of the best backcourts in the country with Rivers, but it is impossible to blame the New Jersey native for his decision. His stock is simply too high.
Photo: US Presswire