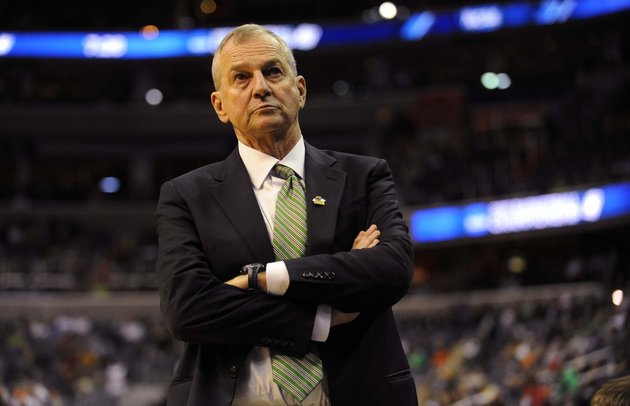 Posted by Matt Norlander
What if I told you, earlier this year Jim Calhoun offered to serve
his three-game suspension from the NCAA
as soon as possible, and the NCAA told him no? According to Calhoun, that's exactly what happened. The UConn coach went on the Dan Patrick Show this morning and stated he went to the NCAA, said he'd sit out three games this season rather than next (which is what the NCAA ruled as part of UConn's overarching punishment), only to be told he'd be punished next year.
"I haven't really discussed publicly too much about the NCAA," Calhoun said. "I volunteered ... this is the first time I've publicly have said this, to sit out games this year. Because I took full responsibility of anything that happened within my program. Whether I agree or disagree with the NCAA is not important. I am the head coach at the University of Connecticut, therefore I should take full responsibility for anything that happened. Their answer was "no," and I said, "All right, but I don't want to appeal anything," that's why I'm not going to appeal anything. They said no."
With that comment, if it's true, Calhoun makes the NCAA look even worse. What's the point of not punishing him immediately? Calhoun knew very well three games docked in late February/early March would've had more impact than the first three games of next season. The UConn sanctions were seen as light, considering
everything that was involved
in the
Nate Miles scandal.
It would've made the NCAA look a lot better to punish a coach immediately, rather than wait for next season, something it got killed for in the
Ohio State football scenario
as well.
Related links
Division I basketball coaching changes
"The three games is fine," Calhoun said. "I would live with that. If they feel they need something that's penal, that's OK. But I would have liked to have done it at the end of this season, and I thought that would've been more fair. Because, why start it up next year? Again, it's been two and a half years."
The man makes a point that's hard to refute. Patrick then asked Calhoun directly if he was the one being punished here, or if it was more about his program, in general.
"I gave out three unauthorized tickets to people who told me they weren't coaching AAU and I made four impermissible calls," Calhoun said. "That's what I've been charged with."
To be fair, Calhoun's not taking full responsibility there, claiming ignorance about people who said they were something they weren't. But he did continue to own his mistakes, when in reality, this punishment still stokes his fires. Those close to the program know Calhoun believes, in his heart of hearts, he shouldn't be serving a three-game suspension.
Outside of
this press release,
Calhoun hasn't spoken much publicly about his team's violations, his suspension or given true reaction to the NCAA's punishment for him and his program. Somewhat out of nowhere, he decided to open up on Patrick's show. A credit to Patrick for getting the 68-year-old coach to divulge about this matter mere days after doing the unthinkable, winning a third national title with a team that wasn't ranked in the preseason.
"I've done this for 39 years," he said. "I know that I'm not warm and fuzzy to everybody, nor do I really care that people do or don't perceive me as that. I care if you talk to my former players, if you talk to the people who really know me. But I don't seek out to have everyone know me, either. ... I know what I've done, I know who I am, and I'm very comfortable with that. ... I'm responsible for anything that happens, whether I know or don't know."
Aside from the suspension talk, Calhoun also said he has every intention of coming back to coach next season. He wasn't definitive, but was very optimistic about returning, talking about his incoming recruits (UConn has a highly touted class) and the expected growth of Alex Oriakhi, Shabazz Napier and Jeremy Lamb.
Photo: US Presswire