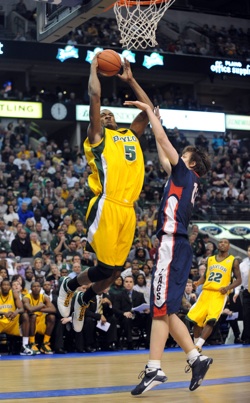 Posted by Jeff Borzello
If Baylor doesn't make the NCAA tournament next season, something will have had to go terribly wrong in Waco.
With the announcement on Monday that Perry Jones will be returning for his sophomore season, the Bears are prepared to field one of the more talented teams in the country.
Jones and freshman Quincy Miller are future lottery picks; both are capable of taking over games. Jones, a 6-foot-11 forward, averaged 13.9 points and 7.2 rebounds this past season, while Miller is a consensus top-five recruit when healthy. They are both long, athletic and create match-up problems for opponents.
Throw in Quincy Acy, a physical 6-foot-7 forward who finishes around the rim and rebounds well at both ends of the floor, and 6-foot-10 Anthony Jones, and Scott Drew will have a deep frontline.
In the backcourt, California transfer Gary Franklin will be eligible at the semester break – he will immediately become an impact scorer. A.J. Walton returns at point guard, while Stargell Love will see an increased role. Incoming freshman Deuce Bello is perhaps the best athlete in the high school ranks; his highlight-reel dunks will be a nightly occurrence.
With all the talent at his disposal, Drew has to get this team to the Big Dance. Even with the loss of LaceDarius Dunn, a repeat of this past season does not seem likely.
Photo: US Presswire