Posted by Matt Norlander
From the conference tournaments and beyond, here are 26 of the most poignant shots of NCAA basketball's 2011 postseason.
If you missed it yesterday,
here's part one.
March 9, New York: Remember the uproar over the ending or Rutgers-St. John's on that Wednesday afternoon of the Big East tournament? How long ago does that seem? Above, Rutgers coach Mike Rice, argues with Tim Higgins moments before the botched ending. (Mary Altaffer/AP)
March 9, Greeley, Colo.: Northern Colorado forward Chris Kaba (10) celebrates with fans after Northern Colorado defeated Montana 65-60 to win the Big Sky tournament. (Jack Dempsey/AP)
March 10, New York: The celebration after Kemba Walker hit the game-winning shot against Pittsburgh in the Big East tournament quarterfinals, effectively starting the charting of the Huskies' incredible course for the next four weeks. (Mary Altaffer/AP)
March 11, Atlanta: A great shot in the SEC tournament, as Vanderbilt's Festus Ezeli attempts to draw a charge.
March 13, Greensboro, N.C.: Oh ... oh, goodness. Mike Krzyzewski takes a moment to shower his wife with love and lip after Duke won the ACC tournament. (Bob Donnan/US PRESSWIRE)
March 19, Washington, D.C.: The foul that was the second-worst foul in the NCAA tournament. Shelvin Mack fouls Pittsburgh's Gilbert Brown during the third round. (Brad Mills/US PRESSWIRE)
March 19, Washington, D.C.: Then Pittsburgh's Nasir Robinson fouled Matt Howard after Brown's second free throw miss, and Howard hit the game-winning shots. An ending unlike anything before. (Brad Mills/US PRESSWIRE)
March 17, Denver: Morehead State guard Demonte Harper follows through on the game-winning 3-point basket in the closing seconds of the second half against Louisville. (Jack Dempsey/AP)
March 17, Denver: Morehead State Eagles guard Terrance Hill celebrates. (Andrew Carpenean/US PRESSWIRE)
March 17, Denver: Kenneth Faried preserves Morehead State's upset bid, as he blocks a last-second shot attempt by Louisville guard Mike Marra. All. Ball.(Ed Andrieski/AP)
March 17, Denver: And what a shot this is. Only one other photo got more run than this. You'll know it when you see it below. (Getty Images)
March 17, Tucson, Az.: San Diego State Aztecs forward Malcolm Thomas peers up at his shot. (Chris Morrison/US PRESSWIRE)
March 18, Charlotte, N.C.: Long Island Blackbirds forward Julian Boyd collects himself during his team's second-round game against No. 2 North Carolina. (Andrew Synowiez/US PRESSWIRE)
March 19, Denver: And here's the most memorable shot of the tournament. Sports Illustrated's Robert Beck got the from-the-floor shot of Jimmer Fredette getting up. Cool anecdote: my feet were two inches from this camera for this shot; Beck set up his remote camera right below the press tables.
March 19, Denver: Ah, vanity. What a cool photo, right? That's yours truly in the tan jacket and orange argyle sweater. Clearly it's the only reason this pic's included in this post. I was stationed there trying to get a decent shot of Jimmer bathing in the love from Cougs fans at the Pepsi Center. Also love this shot for the "GOTTLIEB'S BRACKET GOT JIMMERED" poster. (Doug Pensinger/Getty Images)
March 19, Tucson, Az.: Kawhi Leonard gets UP against Temple. Another great from-the-floor shot. (AP)
March 24, Anaheim, Calif.: No one had a good shot of one of Derrick Williams' blocks, so this will have to do. (Mark J. Terrill/AP)
March 24, New Orleans: Carrot: topped. Wisconsin's Mike Bruesewitz sits by his locker after the loss to Butler in the Sweet 16. (David J. Phillip/AP)
March 26, New Orleans: Florida's Chandler Parsons stands in the hall after overtime of his team's 74-71 loss to Butler in the Elite Eight. The sandals make the photo. (Patrick Semansky/AP)
March 25, Newark, N.J.: Seconds after Brandon Knight hit the game-winning shot to upset No. 1 Ohio State, the players make their way to the handshake line, while John Calipari raises his arms in triumph. (John Munson/The Star-Ledger)
April 2, Houston: Connecticut's Alex Oriakhi and Kentucky's Josh Harrellson dance a beautiful dance in the Final Four. (David J. Phillip/AP)
April 4, Houston: Can't get enough of these shots. Connecticut's Jeremy Lamb uses the pogo stick on a breakaway during the national title game. (Eric Gay/AP)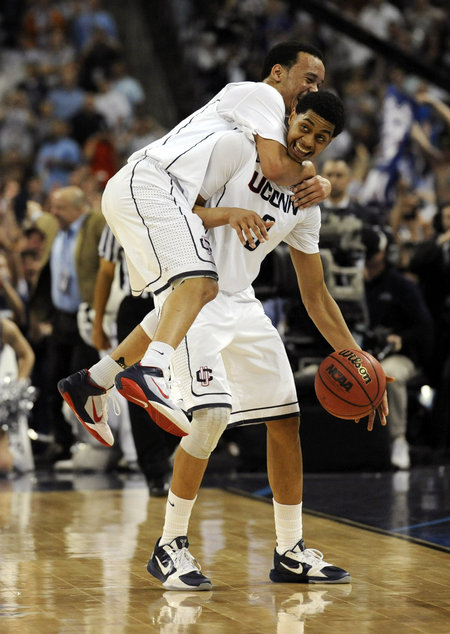 April 4, Houston: Jeremy Lamb is mauled by Shabazz Napier after the final buzzer of the championship game, arguably the ugliest ultimate tilt in men's college basketball history. (Richard Mackson/US PRESSWIRE)
April 4, Houston: The view from above, as Connecticut holds the championship trophy after winning it all. (David J. Phillip/AP)
April 4, Houston: Kemba Walker holds the trophy and watches "One Shining Moment." (Bob Donnan/US PRESSWIRE)
April 5, Storrs, Conn.: Back on campus, Connecticut guard Kemba Walker, left, cries as teammate Alex Oriakhi, center, and Jeremy Lamb, right, look up as Walker's number is added to the school's honor wall during a pep rally at Gampel Pavilion. (Charles Krupa/AP)