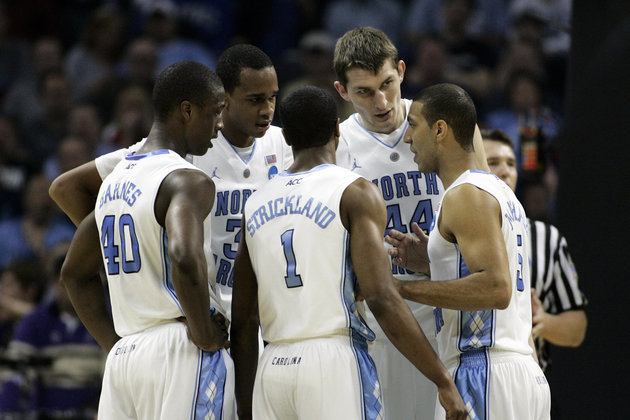 Posted by Matt Norlander

The weakest NBA draft in years
keeps getting weaker
because the good players keep deciding to return to college.
I don't know why this is happening, but I'm thrilled about it. It's not just the threat of the NBA lockout; players will still get drafted and earn that early money. Eventually, there will be a season. The long-term economical model doesn't stand to threaten rookies in pro basketball like it's going to with the NFL.
For one reason or another -- this could all be coincidence, yes -- man of college hoops' best players are choosing to keep the same threads on next season. You will rarely, if ever, find me complaining about elite talent choosing to spurn NBA millions in favor of going back to campus to enjoy another year of university life. If you're as into college basketball as much as me and the other guys here at the blog, you likely feel the same way.
We are, very much so, winning because of this. College hoops will never again have the outright player recognition, highly potent team domination and collective assemblage of talent in the major conferences like it once did, but for those of us under 30, we're going to get a sense of what it was like to watch hoops in the '70s, '80s and early '90s next season thanks to so many upper-echelon ballers bringing their games back to college.
There was no bigger, no player more important in definitively signaling this (even if brief) culture shift than North Carolina's Harrison Barnes. Monday morning, it became official:
North Carolina announced Barnes was returning,
vaulting the Heels to the top of the 2011-12 preseason rankings, where they'll get some competition from Kentucky. (We're still waiting to see what the Wildcats' 2011 class decides to do.)
When Jared Sullinger
said he was returning
for his sophomore season, after he and the Buckeyes were upset by Kentucky in Newark in the Sweet 16, there was plenty of skepticism. The skeptics were wrong; Sullinger did not declare for the draft, and because of that Ohio State will be pegged No. 3, behind UNC and UK. Sullinger was the first big name to keep himself in college, and from there, we've had a handful of important, would-be high draft picks choose to keep the backpacks strapped to their spines. Sullinger's teammate, William Buford, will most likely be a sturdy pro, but he's coming back for his senior season.
Had Sullinger left, I think it's pretty likely Buford was gone, too. But Sullinger didn't go. He was the 50-pound rock that dropped in the water, causing much more than a ripple effect.
Nearly two weeks ago -- and just days after the end of the season -- Barnes' teammates, John Henson and Tyler Zeller, two big men who would be highly, highly valued in a 2011 draft void of real height, declared they
will be back.
There's Perry Jones, the epitome of length and potential (NBA buzz words!) who's coming back to Baylor, easily making the Bears a top-20 preseason team. His decision shocks me more than any other, considering
he was suspended for the remainder of Baylor's season
and he's the prototype for a top-five pick. Yet he's choosing not to cash in now.
Kansas' Thomas Robinson is absolutely expected to be a force next season, and his decision seems somewhat interesting given the fact Kansas is expected to have, perhaps, it's roughest year under Bill Self.
Will Barton and Wesley Witherspoon didn't have tremendous years at Memphis. In previous seasons, guys with their skill set and situations have declared with nary a second thought. Yet Josh Pastner was able to wrangle them back again, even after a tumultuous season in Memphis,
where Witherspoon was forced to sit
in January. Even guys with raw talent but miserable work ethic (looking at you, Renardo Sidney) are showing some proper hesitation in chasing quick NBA money, instead choosing to return to the college scene.
Who has declared?
Check the list for yourself.
And know that at least half the guys who have declared are merely getting evaluated and seeing what their stock is at right now. Many of those players should go heel and shuffle back to school.
If Kentucky's Terrence Jones and Brandon Knight decide to come back, then look out. It will be an outright sea change, again, even if only for a year. We'll have not seen so many lottery picks pick college over the NBA since 1995. The 2011-12 college basketball season already shapes up to be one of the most anticipated, talented seasons in recent memory.
Above anything else, it's going to be
recognizable.
Household names and elite players leading teams. Our Sport will be further embraced and celebrated by casual fans and media. We're coming back, baby! There'll be coaches with crops of talent and raised ceilings. I'd ask you to explain this probably fleeting trend to me, but I'm too busy celebrating the unpredictable.
Photo: US PRESSWIRE