Posted by Matt Jones



This is not a new story, but with the NBA draft deadline having just passed and little happening in the post-Easter weekend sports world, I found it interesting. Two years ago, the blog
82games.com
sought to determine
which schools were most overvalued and undervalued by the NBA in the draft process
. The process for making the determination was by no means scientific. The author utilized only the past 20 years and by starting in 2009, the older players' careers and their longer careers were ultimately given more weight. Still, the methodology, while not perfect, was adequate for determining whether players from certain schools are more consistently over or under valued by NBA teams.
The blog compared a players' career per-game average in points/rebounds/assists versus the average totals for other players who were also picked in the same slot in those 20 NBA drafts. A per-game comparison (as opposed to a per-minute method) is not a good way to evaluate an individual player, but it is a decent method for an enterprise such as this, which is seeking to make a macro judgment about a larger pool of players. After determining the difference from the average person selected at the same pick, a particular player would be categorized as either a star, role player, etc and then rated versus the other colleges. Only schools with five or more players were ranked in the total school comparison.
Amongst all teams, these ten schools were ranked as the most consistently undervalued by NBA teams (number of NBA picks during selected period in parentheses):
1. Wake Forest
(7)
2. UTEP
(5)
3. Marquette
(7)
4. Xavier
(8)
5. Clemson
(6)
6. Kentucky
(15)
7. Alabama
(13)
8. Depaul
(6)
9. Purdue
(6)
10. Pittsburgh
(6)
In a bit of a surprise, Wake Forest took the top spot, thanks in large part to the three superstars it has produced, Tim Duncan, Chris Paul and Josh Howard (who is a superstar relative to his No. 29 overall draft status). Spots 2 and 3 are taken by UTEP and Marquette, both of which are helped in large part by having produced Tim Hardaway and Dwayne Wade. What is most striking is that, with the exception of Kentucky, none of the top 10 are traditional powerhouse schools, showcasing that the NBA is very likely to undervalue many second-tier programs, just as most fans do as well.
Here is the list of the
most overvalued programs in the NBA draft: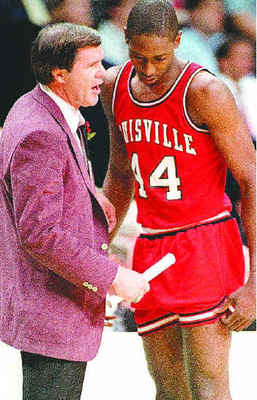 1. Louisville
(11)
2. Vanderbilt
(5)
3. Colorado
(5)
4. Gonzaga
(5)
5. Indiana
(13)
6. Mississippi State
(6)
7. NC State
(9)
8. Missouri
(9)
9. Iowa
(10)
10. Texas Tech
(5)
During the 20 year period studied, Louisville had the most players consistently overvalued by the NBA. Pervis Ellison, Samaki Walker, Reece Gaines, Felton Spencer and Cliff Rozier were all picked in the lottery during this period and none averaged more points than the average player picked at their position. Also disappointing is Indiana, which produced few top players during the end of the Bob Knight era and has seen its overall status as a program drop during the same period.
Finally, the blog ranked the
top powerhouse programs based upon NBA draft performance
as well. Because a school that produces only five players in 20 years can have its status changed by one high profile star or bust (see Marquette with Wade or Gonzaga with Adam Morrison), the higher sample size makes this a bit of a better comparison. Here was the ranking of top programs with 15 or more players selected during the 20 year period:
1. Kentucky
(15)
2. Michigan
(16)
3. Connecticut
(21)
4. Arizona
(28)
5. UCLA
(26)
6. Syracuse
(15)
7. Georgia Tech
(19)
8. Michigan State
(16)
9. North Carolina
(22)
10. Maryland
(16)
11. Texas
(16)
12. Kansas
(22)
13. Duke
(28)
Amongst the programs with the most picks in the draft, Kentucky players have been the most consistently undervalued. The production by players such as Jamaal Magloire, Tayshaun Prince, Chuck Hayes and Rajon Rondo from low draft spots, places Kentucky at the top of the list. The biggest surprise of the list (with the exception of Georgia Tech having 19 players drafted during that period) is the school at the bottom of the list, Duke. The Blue Devils are the most overvalued group of players in the NBA draft by a substantial margin, with the greatest number of players performing below the average player at their position. Also interestingly, North Carolina's players are valued exactly at the correct point according to the scale. With the 22 players the Tar Heels have produced for the NBA during that period, their final NBA production has been exactly average for any player picked at their positions.
What does all this mean? Probably not much. Potentially NBA teams should consider Brandon Knight or Deandre Liggins a few picks higher or Kyrie Irving a couple of picks lower. But probably what it does mostly is give college basketball fans something to argue about during the offseason. And that in and of itself is productive.