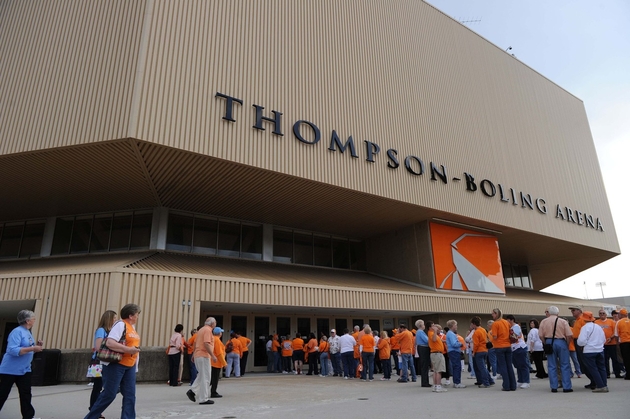 Posted by Eric Angevine


With a new coach, an undetermined roster and possible NCAA sanctions on the way, the University of Tennessee men's basketball program has elected to
cancel a summer trip to Italy
. According to the Knoxville News Sentinel, newly hired head coach Cuonzo Martin and UT athletics director Mike Hamilton agreed that the trip, planned when Bruce Pearl was still head coach of the Vols, would be an ill-timed distraction in the upcoming transitional season.
Hamilton said with UT scheduled to play in the Maui Invitational in Hawaii this November, an overseas trip would have been pushing things from a travel standpoint.

Martin expressed concerns about the overseas trip from the time of his hiring with the Vols for a couple of reasons.

For one, Tennessee would have trouble filling out a roster, particularly if either or both Scotty Hopson and Tobias Harris elects to keep their names in the NBA draft.

Secondly, Martin has committed to serving as an assistant to Purdue coach Matt Painter at the World University Games in China from Aug. 12-23 in Shenzhen, China. The training camp to select the 12-member USA team will be July 30-Aug. 8 at the U.S. Olympic Training Center in Colorado Springs, Colo.

"It will be better to wait a year for the trip because then we can get a feel for our players,'' Martin said. "When you take those trips, you're also building team camaraderie. It's always a beneficial trip, playing five or six games and getting the extra practice.''

The NCAA allows teams to make overseas trips once every four years, which means extra practice and playing time beyond the traditional fall start.
Oregon was scheduled to make a similar trip last season, and then-newly-hired head coach
Dana Altman also decided to re-schedule
. As fun and educational as such a trip might be, perhaps both coaches have the right idea - when in doubt, circle the wagons at home (when you're not personally busy in China, that is).
It's not as if the players on the current roster can really complain. As AD Hamilton indirectly pointed out in the excerpt above, Hawaii in November should be a pretty nice consolation prize for anyone feeling
agita
over the change in plans.

Photo: US Presswire