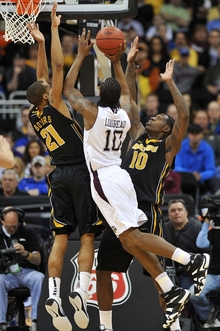 Posted by Eric Angevine

The hiring of Frank Haith to run the University of Missouri basketball program next season was baffling for many reasons. His record at Miami is not exactly sterling. He doesn't project a super-charismatic personality. He's not a star.
Perhaps the most difficult part of the transition will be the abrupt change in playing style that Mike Anderson's guys will have to embrace. A running, gunning team under Anderson - one that didn't rebound or play inside particularly well - the Tigers must now learn to grind a bit more. Learning the offensive sets and positioning will take some time throughout the season, but the transformation of the team has begun already - in the weight room.
Haith hired strength and conditioning coach Todor Pandov to put the wiry Tigers through the wringer this spring and summer. The son of a Bulgarian heavyweight boxer, Pandov learned his trade while recovering from a basketball injury, suffered during his stint as a forward with the Western Kentucky Hilltoppers between 1999-2004. The Columbia Tribune reports that Pandov has Mizzou's greyhounds working out three times a week as they seek to add a little bulldog to the mix.
Mike Dixon needs only to listen to his muscles to tell him about the quality of his recent workouts.

"I've been sore a lot these past couple days," said the Missouri basketball team's rising junior point guard, who, because of that lingering dull pain, can say with confidence he's pushing his body to new limits.

It's a first step as (Pandov) begins to help them retool their bodies for a new brand of basketball under Coach Frank Haith, one dependent more on strength than the speed and agility required for the Fastest 40 Minutes in Basketball of predecessor Mike Anderson. That's particularly true for forwards such as Laurence Bowers, who will be asked to bang under the basket.
Given the drastic change in culture in Columbia, it's rather surprising that none of the Tigers have announced an intention to transfer yet. It's quite possible that Haith knows what he's doing, and will find a way to marry that innate speed with new bulk, but the transition has to be jarring for players who spent more time doing wind sprints than heaving barbells around in the past.
According to kenpom.com, Missouri had the nation's 14th-highest adjusted tempo last season, with 72 possessions per contest. Miami's final season under Haith was played at a pace of 65.5 possessions per game, good for 236th. Not sure how easy it's going to be to put the brakes on these guys.
This will be an interesting team to watch next season. Anderson left plenty of talent on the team, but the Big 12 will look very different next season, with only the league's top ten teams around now that Nebraska and Colorado have defected. Perhaps its as good a time as any to try something new with the Tigers. The good news, according to Pandov, is that the holdovers from the previous regime "(have) great attitudes and have been willing to learn."
Everyone buying in is the first step. If Haith has accomplished that already, we may be in for a surprise at Mizzou somewhere down the road.
Photo: US Presswire