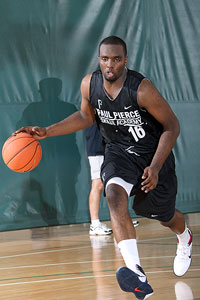 Posted by Jeff Borzello
North Carolina and Duke have a lot of things in common. They are both national basketball powers in the ACC, coached by legendary coaches and located within eight miles of each other on Tobacco Road.
According to incoming North Carolina freshman P.J. Hairston, though, one thing separated the two schools during his recruitment.
One school was able to spell his name correctly. One, well, wasn't.
"The thing about Duke was, every time they sent me a letter, they wouldn't spell my name right," Hairston told Jason Wolf of the Greensboro News-Record. "They would have 'T.J. Harrison' or something like that."
Not surprisingly, the 6-foot-4 Hargrave Military Academy (Va.) prospect from Greensboro, N.C. chose the lighter shade of blue when it came time to make a college decision.
"I'm like, 'OK. How can I go here? You can't even spell my name right,'" Hairston said about Duke. "It's only two letters and HAIR and STON. I'm trying to figure out how that's so hard."
Of course, there were other things that factored into Hairston's decision, but I can't imagine it helped Duke's case that they misspelled his name more than once.
It's a good cautionary tale for college programs: when recruiting a top-25 prospect, spell his name right.
Photo: Kelly Kline/NIKE