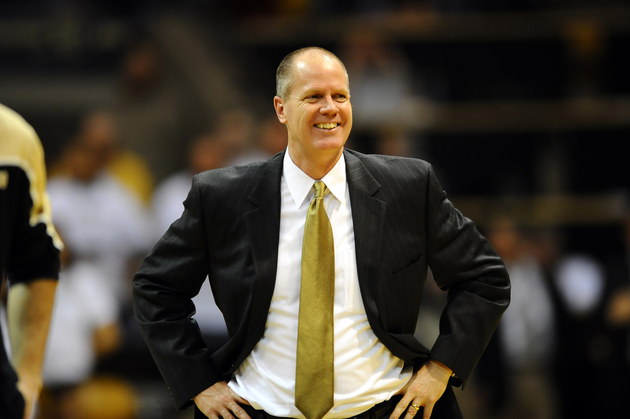 Posted by Eric Angevine
It may still feel like the Final Four just ended, but for most schools, the offseason is now more than two months old. With that in mind, all of us at the blog are going to take this week to give you what we're calling "Conference Catch-Ups." The motive is to recap the biggest storylines in college basketball's offseason so far, plus keep your appetite whetted in what is the longest offseason in major American sports.


The Big Stories
Twelve to tango: It's the Pac-12 now, which might take some getting used to. At least it's numerically correct, unlike the 10-member Big 12 and the 12-member Big Ten. In adding Utah from the Mountain West, the Pac-12 has brought aboard a once-dominant squad (The Utes reached the Sweet 16 in 2005 and the final game in 1998) that has fallen on hard times. Head coach Jim Boylen was jettisoned after a second straight losing season, and former Montana and NBA head coach Larry Krystkowiak was brought on board. Colorado, despite finishing out of the running in their final season in the Big 12, comes in with a lot of momentum, most of it attached to the person of second-year head man Tad Boyle, a Colorado native who calls the Buffs his "dream job". Both squads may start out rough, but a change of scenery might do them good.
It's a nice place to visit, but I wouldn't want to live there: The Pac-12 still gets its share of top players, but stars continue to leave after spending just a year or two out West. This season saw the departures of Derrick Williams (Arizona), Alec Burks (Colorado), Klay Thompson and DeAngelo Casto (Washington State), Tyler Honeycutt and Malcolm Lee (UCLA), Nikola Vucevic (USC) and Isaiah Thomas (Washington). Even Colorado's Ryan Kelly and Jeremy Green of Stanford took the plunge, though neither has any real chance of getting the call.
Miller puts down roots in the desert: Who can blame the players for wanting to leave when the coaches are burning up the revolving door? With more than half the league's head men logging less than five years at their respective jobs, sticking around almost seems like a bad career move. That didn't stop Sean Miller from turning down overtures from just about every other power conference in the nation this spring. He flirted more heavily with Maryland than with anyone else, but eventually accepted an extension to stay in Tucson. It's sunny there, and he just came off of an Elite Eight appearance. Sounds like a pretty good deal, no?
The Great Unknown
Can this conference recover? Ben Howland's teams made the Final Four (or better) in every year from 2006 to 2008. Then success bred failure as all of the program's most talented players jetted off to the golden shores of the NBA long before their eligibility could expire. The league is still reeling from frequent transfers, as well. The strongest programs right now look to be Arizona, Washington and, with more talent on the way, UCLA again. In fact, had the Wildcats broken through to the final weekend this past March, would we even be asking this question?
NBA Draft report
As pointed out above, half the darn league seems to be out the door each season. The superstar out of this bunch is Williams, who has the athleticism and size to throw down some nasty inside dunks, paired with a sweet outside stroke that keeps opponents whirling. Toss in a tendency to make the big, sometimes game-winning play on offense and defense and you've got an easy lottery pick.
Alec Burks, who played his career in the Big 12, is considered to be a likely first-rounder, as are Klay Thompson and Tyler Honeycutt. Big man Nikola Vucevic looks like a high second rounder, and everything else is a crapshoot. It would be one thing if all those players left for obvious gain, but so many of them are unlikely to see their dreams come true.
Transference

Coming

--Larry Drew II (from North Carolina).
--Glen Dean (from Eastern Washington to Utah)
--Aaron Dotson (from LSU to Utah)
--Evan Gordon (from Liberty to Arizona State)
Going

--Lamont 'MoMo' Jones (from Arizona)
--Malcolm Armstead (from Oregon)
--Teondre Williams (from Oregon)
--Daniel Berejano (from Arizona to Nevada)
--Will Clyburn (from Utah to Iowa State)
Team commentary in 20 words or Less
Arizona: The Derrick and MoMo show is no more, but Miller is staying put. Wildcats rebuilt fast, however, and look good to go under Sean Miller.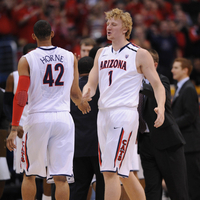 Arizona State: Herb Sendek is playing small-ball with guys who can't shoot straight. Will freshman PG Jahii Carson be able to turn the bus?
Cal: The Bears struggled with a wet-behind-the-ears starting lineup, but all that teaching time could pay off this year.
Colorado: The Buffs have a couple of decent young players, a hot head coach and a little momentum going into their new digs. With little certainty at the top of the Pac-12, they could have opportunities.
Oregon: Dana Altman proved he can coach by building a CBI championship team out of E.J. Singler and duct tape. Year two could be fun.
Oregon State: Craig Robinson is going to be up for re-election around the same time as his brother in law. Running mate Jared Cunningham could make the race exciting.
Stanford: Johnny Dawkins reeled in one of the best young point guards in the nation in Chasson Randle. Still looking for a reliable scorer with Jeremy Green gone.
UCLA: The Wear twins plus Josh Smith makes this a huge team, but the Bruins are still in need of a reliable point guard.
USC: The Trojans are losing Nikola Vucevic to the NBA and don't look to have anything spectacular on the way in.
Washington: Top scorers Isaiah Thomas and Matthew Bryan-Amaning are gone, but the Huskies have a loaded freshman class coming in.
Washington State: Klay Thompson was a predictable loss, but the toughness of DeAngelo Casto will be missed as well. This team needs to find a new personality.
Utah: With a new head coach and transfers going in and out all over the place, this team is starting from scratch.


Photos: US Presswire

Big East Conference Catch-up