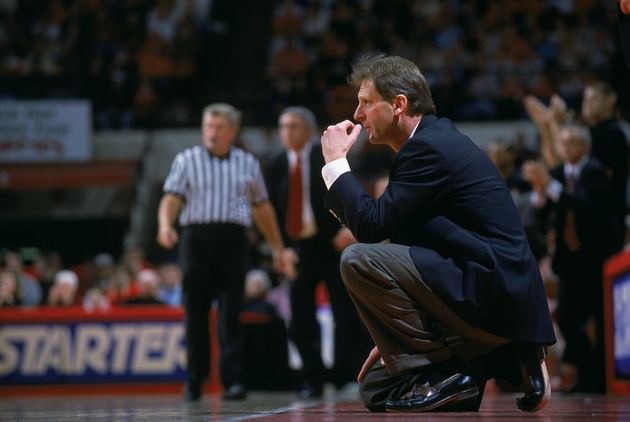 Posted by Eric Angevine
In spring and summer - the time when college hoops goes on the back burner for most sports fans - it pays to keep an ear to the ground. Or, more realistically, to stuff one's RSS reader with so many local newspaper feeds that even blips of salient information end up being read.
That's how the Wyoming Tribune Eagle ended up in my purview, and that's where I read this tidbit, from new University of Wyoming head coach Larry Shyatt, who came back to Laramie to a job he held previously in 1997-98. Shyatt left to become head coach at Clemson and also served as an assistant at Florida from 2004-2011. Wyoming beat reporter
Robert Gagliardi asked Shyatt how it felt to be back in charge of recruiting at the MWC level
after having been in the power conference world for so long, and got this interesting answer:
"Coaches are under a great deal of pressure to make a couple of key decisions. One, do I go after the most amount of talent that the eyes tell me and maybe look the other way in terms of either academics or value system? Or do I try to get a better combination?

As much as I want to win and as much as I distaste losing, I can assure you I'm not going to look the other way. That's not a direction I'm comfortable with. Early in my career I was confronted with some of those decisions. It's a lot easier now for me."

Gagliardi: Why is that easier for you now?

"I would say it's mostly been me. It's mostly been my distaste for the BCS-level basketball world.

Most of the people I admired most in my career I don't really admire anymore. (F)or the analysts or the writers or the public or our wives, sometimes, they have a warm, fuzzy feeling for some people that if they knew what I knew, they wouldn't have such a warm, fuzzy feeling. It's disappointing. I'm one of the few basketball dinosaurs. I love the profession. It hurts me to see at that level the sellouts in that regard."


Shyatt's no dummy. He doesn't come right out and say who he's labeling a 'sellout', or which coaches have fallen from grace in his estimation, but he does the next best thing. He gives Gagliardi a list of coaches he does admire. "The people I talk the most to, whether I'm looking for advice or friends, would be (current UW assistant head coach) Scott Duncan. Matt Driscoll, Donnie Jones, Anthony Grant, Billy Donovan in the Florida family. Then Rick Barnes, Gary Colson and probably Herb Sendeck and Jeff Van Gundy." Within the MWC, he cites Air Force head coach Jeff Reynolds as his closest friend.
Famous people often do such a good job of managing their images that we in the general public have no idea what they're really like. Top-level basketball coaches are essentially celebrities, who spend much of their time selling a persona to recruits, donors and the general public. It's interesting to hear from a coach who's been to the mountaintop (two national championships as a Florida assistant) and come back home to finish his career, reveal that some of those sterling faces might be just masks.
Wyoming is always going to be a tough place to recruit, no matter who's coaching there, so it'll be interesting to see how far Shyatt gets with his stated commitment to doing things the honest way.
Photo: Getty Images