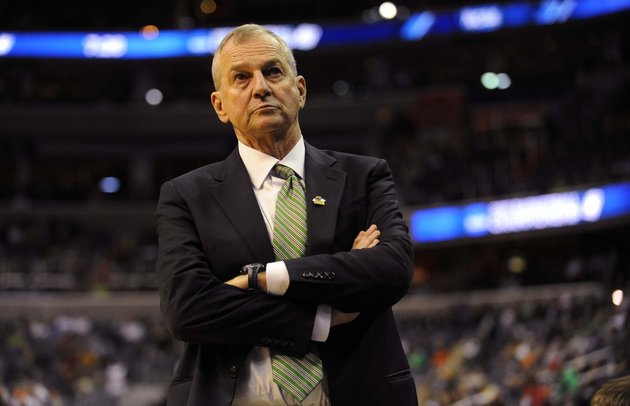 Posted by Matt Norlander
The news of
Connecticut landing highly touted 2011 prospect DeAndre Daniels
could cause an array reactions for Huskies fans, all of them positive.
Make no mistake about it -- the commitment is huge and meaningful on a lot of levels. Daniels had offers from Duke, Kentucky, Kansas, Texas (where he originally verbally committed to) and plenty of others, but he chose Storrs, Conn., to be his home for the 2011-12 season. It was a very surprising choice; many didn't even considering Connecticut to be a viable player in Daniels. Yet Jim Calhoun made it happen. Let that sink in, as it's probably going to be the last huge recruiting coup for Calhoun. It's one of his biggest. The man still has it, unbelievably.
This means UConn will have a team that's worthy of the preseason top 25 and should be thought of as an NCAA tournament team next season. Daniels will arrive on campus with Ryan Boatright, and extremely athletic guard who leaps out of the gym.
UConn will be fun, but young and frustrating.
The Daniels news, exciting as it may be, quickly takes a back seat to the conceit that Calhoun will be back. He has to be. No way Daniels commits to UConn if he doesn't have a guarantee from the 69-year-old coach
that
the 69-year-old coach will be returning, right? We're still waiting for official word from Calhoun that he'll be back, and I'd expect that news to come by the end of next week. All of this is savvy, classic Calhoun, and Huskies fans are no doubt reveling in this today. The program won't drift back to the pack. Not yet, at least.
Is this the right decision for Calhoun? Only he knows that right now. Retiring on top, after winning a national title, seemed the right way to go. But Calhoun doesn't seem to care about tying up his career with a bow. He wants to leave UConn with a sense of national prominence (he's said that means a top-10-program-type reputation, which exists today), knowing he built this thing from the earth with his bloodied knuckles. He's done that, and he's not done yet, it seems.
Calhoun has always loved proving doubters wrong, making cynics look silly. Once again, he keeps going while we keep underestimating what he's capable of. There are still three years left on that contract. I used to believe there was no way he'd finish those out. Now I'm wondering how he'll manage to pry himself away before it expires.
Photo: AP