By Jeff Borzello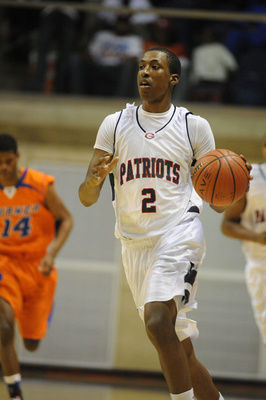 Ever since Kentavious Caldwell-Pope committed to Georgia, there were questions surrounding his eligiblity. Once he academically qualified for the fall a few weeks ago, everything seemed to be set in terms of Caldwell-Pope's arrival on campus.
There might be a setback, though – and it has nothing to do with grades.
On Sunday, Andy Bitter of the Ledger-Enquirer (Ga.) reported that Caldwell-Pope and Georgia football player Jarvis Jones received extra benefits from two people who ran their AAU basketball team.
Tony Adams and Herman Porter run the Georgia Blazers, a Nike-sponsored travel team that has produced numerous Division-I prospects over the years. According to Bitter, a police investigation into the Columbus (Ga.) Parks and Recreation Department -- which is also run by Adams and Porter -- found purchases that could put the amatuer statuses of Caldwell-Pope and Jones into question.
"Police records show that an unauthorized bank account controlled by Adams and Porter was used to pay for flights to and from Los Angeles for Jarvis Jones . . . and for the cell phone bill of the mother of Kentavious Caldwell-Pope."
Jones, who played one year at USC before returning home, received $828.40 worth of flights from a Georgia Blazers' credit card. Caldwell-Pope's mother, Rhonda Caldwell, had a cell phone bill of $280.90 paid for using money from the Blazers' bank account.
"NCAA rules do not allow amateur sports organizations to provide expenses for athletes in excess of actual and necessary travel, room and board, apparel and equipment for competition and practice."
Baylor forward Perry Jones was suspended six games in March when the NCAA determined his AAU coach gave extra expenses to his mother and also paid for a flight.
Caldwell-Pope is the highest-profile recruit Georgia has signed in many years, rated as a five-star prospect by most outlets. His deep 3-point shooting range is expected to provide an immediate boost to the Bulldogs' perimeter.
Bitter reported in the story that the NCAA was aware of the allegations.
Photo: Bleacher Report