By Gary Parrish


I don't know whether Connecticut coach Jim Calhoun has explicitly told the president of his university that he wants his athletic director fired. How could I? But I do know this: If Calhoun -- the most powerful man on campus, by far -- wanted to stop what appears to be the imminent buyout of Jeff Hathaway, he could. But Calhoun doesn't want to do that. So he won't. And that's why the quote he
delivered to ESPN.com's Dana O'Neil
seems silly and insincere.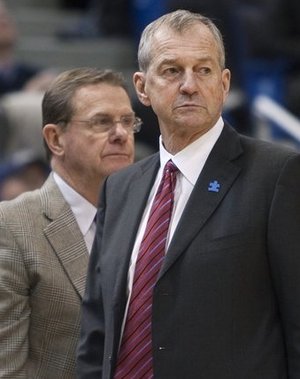 "I don't want to see anybody lose a job."
Really, Jim?
If that were true, Hathaway's job would be safe.
But the reality is that most believe the only reason Hathaway's job is in jeopardy is because Calhoun, for lack of a better word, hates Hathaway. That's the picture painted by almost everybody close to the Connecticut program -- including
Hartford Courant
columnist Jeff Jacobs, who
described Hathaway as a "dead AD walking"
while adding that Hathaway "never had a chance against the baddest man in Connecticut."
"I have nothing against anybody."
That's another quote Calhoun delivered to O'Neil.
It's also unbelievable.
But can you really blame Calhoun for thinking he can say something so absurd?
The man, just last season,
basically got away with using a booster turned agent to buy a prospect,
and then he won the national championship, too. So I completely understand why Calhoun thinks he can use his power to remove his athletic director while simultaneously claiming he has no interest in doing so. What I don't understand, though, is why anybody would believe Calhoun when he says he has "nothing against anybody" and doesn't "want to see anybody lose a job."
If that were true, Calhoun could stop this.
But I bet you all the money Josh Nochimson gave Nate Miles that he won't.
Photo: AP