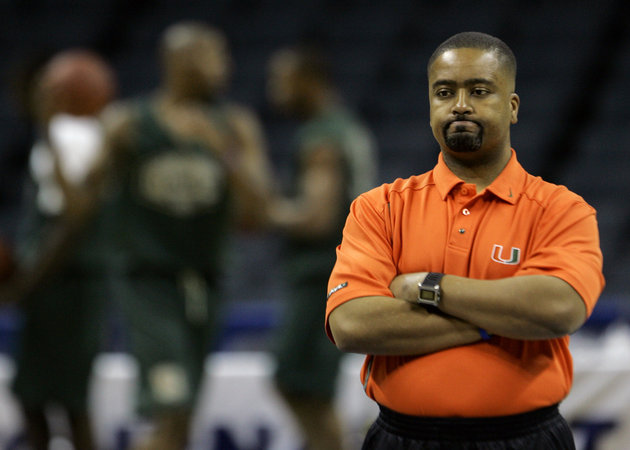 By Matt Norlander
In the midst of what is immediately very likely
the biggest college sports story of 2011
, current Missouri -- and former Miami -- head coach Frank Haith doesn't look too good right now.
A
meticulously detailed investigative report by Yahoo! Sports' Charles Robinson
really levels Miami football. Scorched earth doesn't even begin to cover it; this is already considered among the most outrageous cases of rule-breaking in the history of the sport. But there are basketball implications here as well, and they connect primarily to Haith, who was the coach at Miami from 2004 through this past season.
Whether it was foresight or not, Haith's departure to another (and better) basketball program a few months ago could raise as many eyebrows now as it did then, when many thought Missouri made an underwhelming choice.
The dropquote below is the bombshell part, as far as Haith is concerned. It could absolutely get him fired from Missouri, should more information get uncovered. It relates to the central character of this scandal, Nevin Shapiro, who was a booster for the school tied to Ponzi money. Shapiro provided players with everything from cash to food to lodging to yacht rides to prostitutes and more. The worst of it all: Shapiro and other sources in the Yahoo! story implicate football and basketball coaches with knowing -- and active participation! -- this wrongdoing was going on.
Shapiro said he violated NCAA rules with the knowledge or direct participation of at least six coaches – Clint Hurtt, Jeff Stoutland and Aubrey Hill on the football staff, and Frank Haith, Jake Morton and Jorge Fernandez on the basketball staff. Multiple sources told Yahoo! Sports Shapiro also violated NCAA rules with football assistant Joe Pannunzio, although the booster refused to answer any questions about that relationship. Shapiro also named assistant football equipment manager Sean Allen as someone who engaged in rulebreaking, and equipment managers Ralph Nogueras and Joey Corey as witnesses to some of his impropriety.
Morton is now an assistant at Western Kentucky; Fernandez is currently an assistant at Marshall. Here's where Haith and Morton are implicated in a bad, bad way: the payment of recruits. One recruit, specifically. More from Robinson's report:
The booster said his role went one step farther with the basketball program, when he paid $10,000 to help secure the commitment of recruit DeQuan Jones. Shapiro said the transaction was set up by assistant coach Jake Morton in 2007 who acted as the conduit for the funds, and was later acknowledged by head coach Frank Haith in a one-on-one conversation.

Shapiro also entertained then-prominent AAU basketball coach Moe Hicks in October of 2008, with a nightclub visit that was attended by both Morton and Fernandez.
The photo of that nightclub trip is to the right, via the Yahoo! Sports story.
Tonight, in a statement released by Missouri, Haith said he will be happy to talk to NCAA about Shapiro and that the reports about his interaction with Shapiro "are not an accurate portrayal of my character."
In fact, here's Haith's statement in full:
"In response to a recent news article, I can confirm that the NCAA has asked to speak with me regarding the time I spent at the University of Miami. I am more than happy to cooperate with the national office on this issue and look forward to a quick resolution. The NCAA has instructed me not to comment further at this time in order to protect the integrity of their review, so I appreciate your understanding in this matter. The reports questioning my personal interactions with Mr. Shapiro are not an accurate portrayal of my character and per the above I am unable to comment further."
That's certainly better than a "no comment."
There are more details in the story that tie Haith to Shapiro, like the former Miami coach attending strip clubs with Shapiro (not illegal, but doesn't look good on the surface) and the fact Shapiro donated 50 grand to the men's basketball program as recently as 2008. That money was all fraudulent, all Ponzi money Shapiro admits in the Yahoo! story.
Miami athletics was arguably already the most notorious department in college sports before this; now it's been solidified. And while football will rightfully receive most of the attention, there are serious allegations and crimes tied to its former men's basketball staff, too, and those alleged wrongdoings won't be overlooked by the NCAA as this investigation begins to curdle.
Photo: AP