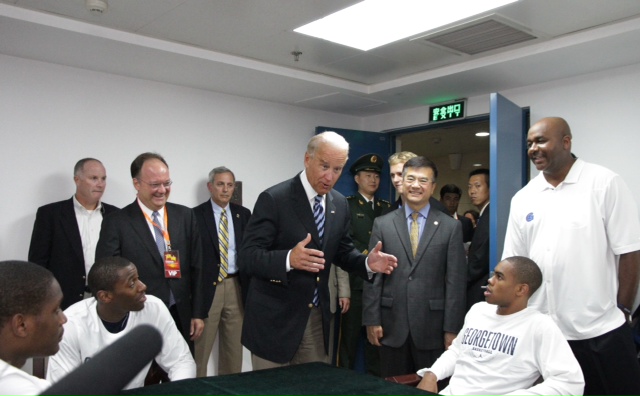 By Matt Norlander"And that's when I told Barack, 'Mr. President, with all due respect, I really think we should go through with this and try to take bin Laden down on May 1.' It was all me, boys."
The Georgetown men's hoops team is in the midst of an 11-day tour of China. Coincidentally, vice president Joe Biden is also in the Far East. The Hoyas and their fellow D.C.-dwelling superior were both in Beijing Wednesday.
Georgetown defeated the Shanxi Brave Dragons of the Chinese Basketball Association 98-81 in front of Biden and some of his constituents. It was the team's first game in their overseas trip. Biden met the young Hoyas in the locker room before the game started, per Georgetown spokesman Mex Cary.
"I'm glad some of those things happened (the VP attending) because life in the Big East is one big distraction," John Thompson III said. "Being fortunate enough to play at Georgetown, we have many events like this. We were excited and honored to have the vice president, as he said, travel 24 hours to see us play, along with the many, countless Chinese politicians and delegates that came to watch their team play, as well as ours."
As far as the game, Hoyas fans, know that freshman forward Otto Porter led the team with 16 point. The team shot 47 percent from the field.
"This group has to manage itself, and so whether we win big or lose big while we're over here, the purpose of this trip is to establish habits and how we need to do things," Thompson said. "We have a long ways to go.
The Hoyas play again in Beijing Thursday, against the Bayi Rockets. They'll be playing in the Olympic Sports Center. Good to see that building still getting some use three years after the end of the XXIX Olympiad.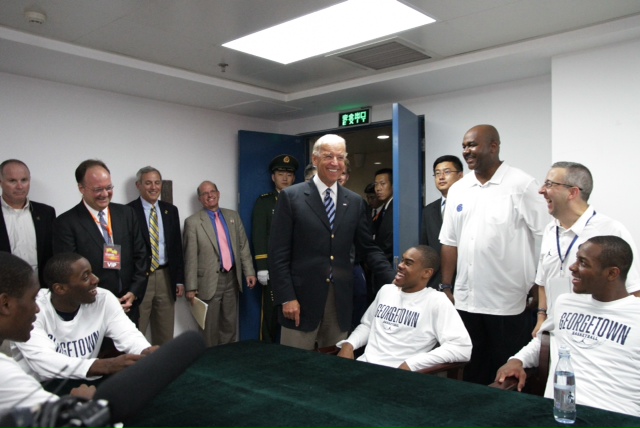 Photo via Georgetown athletics