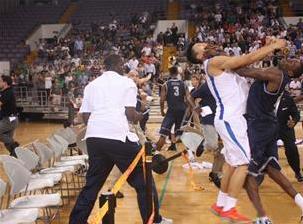 By Matt Norlander
We can now presume when
the Hoyas met with Joe Biden in Beijing yesterday
, they didn't talk about peace and diplomacy.
And I'm guessing, unlike the Biden photo-op, we won't be receiving a press release about this dust-up.
UPDATE:
Statement from Georgetown is as follows, "Tonight, two great teams played a very competitive game that unfortunately ended after heated exchanges with both teams. We sincerely regret that this situation occurred.
"
Georgetown's team
got pulled off the court
in the fourth quarter of a game Friday (it's Friday over there) against Baiyi, when the score was 64-64, after players began fighting and "
chairs were being thrown
. Players and coaches had to dodge water bottles hurled from stands."
I can't quite make out the photo to the right, but it could very well be Hollis Thompson swinging limbs with a Baiyi player.
It never even gets this bad against Syracuse. Did someone say "your Mom's a Hoya!" in Mandarin? Is that what led to what looks like complete chaos in an overseas exhibition?
Well, via
Ballin' is a Habit
, this
messageboard claims to have the rundown
on what happened, as the poster was in attendance at the game. It is a messageboard, so we always tread carefully, but here's a lengthy, supposedly informed excerpt:

The whole thing came undone in the third. About two minutes in, the ridiculously lopsided foul calls continued and the first real shoving match kicked off over a loose ball. The players on the court separated each other pretty quickly, but then the craziest thing I've ever seen happened- one of the Bayi big men got in JT3's face and almost took a swing. He was so shocked he didn't know what to do. So that upped the ante a bit.

Then the foul calls truly took on a comical dimension. ... There were four or five intentional fouls called, giving them four shots each time down the court. JT3 was called for a technical for stepping over the line onto the court. ... A few exchanges got testy and at one point players had to restrain themselves again.

Two minutes into the fourth, they were pressing full court, trapped one of our guards (I forget who it was), and then must have pushed or punched him on the ground after he made the outlet pass, because then there was a shoving match and then a bit of a fight, and then the whole thing set off. He tried to get away as quickly as possible as the Chinese players sort of converged on him, and then benches cleared, and then people on the Chinese bench started picking up chairs. Everyone on the other side of the court started fighting as well. Brawl spread all over the court, and then off the court. After it kicked off it immediately became possible for the crowd to get involved, and then they did. As we tried to get the team off the court, bottles (plastic ones, thankfully) came out of the crowd at the team and everyone left. Security was there (sort of), but it was more equivalent to mall cop-quality security rather than actual security. The Georgetown staff wanted the security to get on the floor, but honestly these guys didn't have a clue what to do. They escorted the whole alumni contingent out fairly quickly after that.

To me, just looks like another example of some real team bonding on an overseas trip. Mission accomplished, really.
Photos via here