In our Trippin' series we're talking to teams as they return from preseason trips to foreign locales. Click here for all Trippin' related stories.By Gary Parrish

Fred Hoiberg was never gonna get Iowa State into the top half of the Big 12 by recruiting traditionally, and he was smart enough to realize that within weeks of taking over at his alma mater. He knew he'd have to gamble here and there -- especially with transfers. And that's precisely why ISU now has a roster in place that's talented enough to compete for an at-large bid to the NCAA tournament.
Royce White could be a star.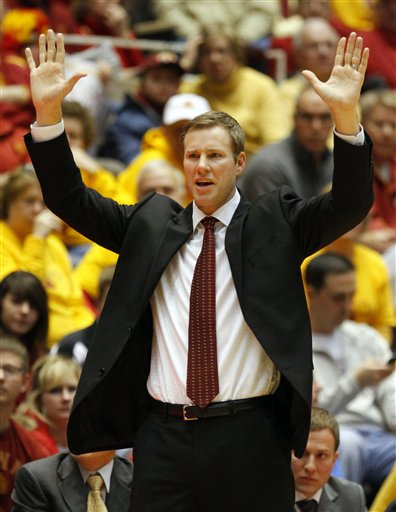 So could Chris Allen.
The transfers from Minnesota and Michigan State looked that way during a four-game trip to Italy.
Iowa State returned home late Friday.
Hoiberg shared his thoughts with CBSSports.com on Monday.
What Hoiberg learned:
"I've got a group that's going to play hard every night, and with the talent we have we're going to have an opportunity to win a lot of games if we continue to buy in and and play unselfishly."
What or who impressed Hoiberg:
"All the new guys played well. Chris Babb was really good. Chris Allen shot the ball very well. But the thing I was pleased with offensively was just how well we shared the ball and how unselfishly we played. We had six guys average double figures over there. That shows that the ball was flying around and guys were making the extra pass. It was fun to watch."
What concerned Hoiberg: "We were never in a pressure situation over there, and I would've loved to have been in one where we had to make some big decisions down the stretch. That would've probably showed us more -- being in a situation like that. So that's going to be the big thing. Late in games, who is going to be the go-to guy? Who is going to have the ball in his hands? We don't know that yet. But I do think we have a lot of guys who can make plays."
----- NOTES -----
Four of ISU's top five scorers on the trip were players who transferred into the program from another Division I school -- specifically Scott Christopherson (Marquette), Chris Babb (Penn State), Royce White (Minnesota) and Chris Allen (Michigan State). Christopherson led the team with 13.8 points per game.
White averaged 11.8 points and a team-high 10.8 rebounds in four games and showed why he was a heralded recruit before enrolling at Minnesota.
Allen shot 47.6 percent from 3-point range in the four exhibitions. That's a big number, sure. But it should be noted that Allen shot 43.0 percent from beyond the arc in his final season at Michigan State, point being that he's capable of making jumpers at a high rate. "He's played in two Final Fours," Hoiberg said, "and he was the leading 3-point shooter on those Michigan State teams."
Allen wasn't the only person making 3-pointers. Christopherson made 12 in four games, Babb made 11 and junior college transfer Tyrus McGee made eight. "We've got a lot of guys who can shoot it," Hoiberg said. "Our big thing is going to be spacing and not always just settling for the first one."
As is the case with most foreign trips, the off-the-court stuff was also important. The Cyclones took in all the sights of Italy -- including the Vatican. "How many times are you going to get to walk through the Vatican with a tour guide?" Hoiberg said. "Not every often."
Photo: AP