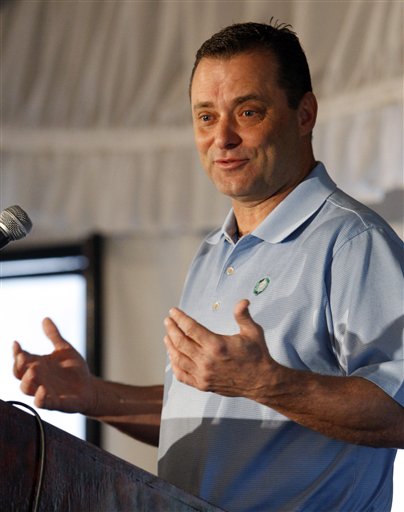 By Matt Norlander
Few major, BCS-level athletic directors would have hired Billy Gillispie to coach their basketball team. He was radioactive, to say the least. In fact, that probably doesn't do it justice.
Honestly, Texas Tech AD Kirby Hocutt may have been the
only
major-conference AD willing to take a chance on Gillispie. The former Texas A&M and Kentucky basketball coach is known for his ability to win games but also carries with him a reputation that seems will haunt him forever, much of that stemming from how hard he is to interact with. There are also concerns with his penchant for drinking.
Fortunately for Gillispie, Hocutt went all in on him a few moths ago. Yet, before a game's been played under Gillispie, it turns out he couldn't even make it through an offseason without headaches and turmoil at his new job. There's already erosion within the Texas Tech program, considering Gillsipie can't hang on to assistant coaches, trainers or even secretaries.
He's scaring, bullying and forcing people away from the buildings in Lubbock. People who'd spent the better part of a decade there no longer are because of the new basketball coach in town.
SPORTSbyBROOKS ran with a story
today that details some of what Gillispie's put Hocutt through in a few months' time, including the departures of the people referenced above. The post's primary conflict centers around longtime assistant Chris Beard, who
left the program in mid-June
-- an uncommon time for an assistant to jump ship.
Fighting? Yes, there was fighting. Fighting of the physical variety that came to after Beard couldn't take Gillispie's verbal abuse anymore (a mere 10 weeks' time since he was hired on March 21). Fighting of a variety that apparently boiled to a point where Hocutt had to separate Beard and Gillispie. An athletic director playing peacemaker between two basketball coaches.
Picture that scenario unfolding in your mind, then appropriately ask yourself,
What has happened at Texas Tech?
Beard left the program after multiple, heated altercations with the irascible and intractable Gillispie, the final of which was physically broken up by ... Hocutt.

That final conflict was a mediation of sorts after Beard had previously decided to leave the program because of Gillispie's poor treatment of Tech employees, a former player and concern over Gillispie's fast-and-loose recruiting tactics.

Remember, Beard was a guy who got along famously with Bob Knight throughout the notorious coach's tenure and was a close confidante of Pat Knight as his top assistant. Gillispie was also a previous admirer of Beard, having tried to hire Beard at one of his previous coaching stops.

But the throwdown in front of Hocutt was the final straw for Beard, who was cursed by Gillispie on multiple occasions in front of Hocutt before responding to the Tech coach in kind.

In exchange for Beard's silence about Gillispie's ill-advised stewardship of the program, Texas Tech has since paid Beard a hefty sum in an exit agreement that included a confidentiality clause. (Beard was not a source for this story, nor did he initiate or have any role whatsoever in its production or publication.)
I can confirm that many around and formerly with the Tech program have been very tight-lipped about what seems to be tenuous-at-best circumstances right now. There's also another person not stated in Brooks' story who joined Gillispie's staff briefly in the spring only to leave shortly thereafter.
Gillispie's burned so many bridges at this point. Not a lot of assistant coaches are willing to work for him because word spreads, obviously. College coaches absolutely love to talk with each other and bury the guys who've tried hard to bury others before. It's part of the fun of the July recruiting trail.
Gillispie did recently replace Beard. After a weeks-long search, Jeff Kidder, who spent the past six years coaching at the junior college level, joined
Gillispie's staff
on Aug. 3.
Texas Tech is in a tough spot right now. Even if you eliminate all of the tension built up from a human resources standpoint, think about if Gillispie would even be a head coach right now if it was known
how much money
he'd been
bilked out of in Ponzi schemes
. No way he gets hired by Hocutt if that's known. We're talking about a coach that never officially signed a contract when he was at Kentucky. Do you think Gillispie would have been hired at Tech in the first place if his ties to David Salinas and Jim Donnan were public prior to April?
So this is what the Red Raiders are faced with: Before the season begins, its coach is already fighting a bad environment within the office, a worse reputation on the recruiting trail and an uphill battle in the whittled-down, weakened Big 12.
Have to think Hocutt wonders daily how he could have avoided this, and how he talked himself into hiring Gillispie in the first place.