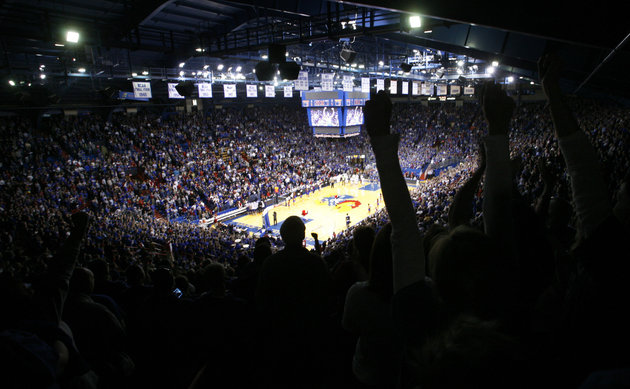 By Matt Norlander
The lockout at basketball's professional level is providing an ironic twist that usually goes the other way. Right now, the NBA's loss is college basketball's gain. Kansas hoops is about to take advantage of the work stoppage and give its fans a rare treat,
similar to what Kentucky did recently
.
Being that Kansas football has a bye the weekend of Sept. 24, Bill Self and the basketball program are taking advantage of an available fall Saturday in Lawrence.
Former Kansas players and coaches will participate in an exhibition game at Allen Fieldhouse. It's being
billed as the Legends of the Phog
game. I like it.
I like it a lot
.
Former KU coaches Larry Brown and Ted Owens will coach a collection of former KU players who have been part of three NCAA titles, 54 conference championships, 13 Final Fours and 2,038 all-time victories. The rosters will include many current NBA Jayhawks, including NBA All-Star Paul Pierce, as well as many other recent KU standouts.
"It's going to be a spectacular event," Self said in a statement. "Not very often can you spin a negative into a positive but we get an opportunity to do so with the NBA lockout. There have been numerous times we'd like to get all these guys back at the same time, but it's always been hard for the current NBA players to come back because their schedules run similar to ours."
Paul Pierce is the big name, of course, but who else could we see? Well, Cole Aldrich, Mario Chalmers, Darrell Arthur, Nick Collison, Kirk Hinrich, Drew Gooden and Julian Wright are all former 'Hawks who make a wage in the Association. None of those were named in the press release, but it does state a good number of NBAers will play, so I think it's fair to expect a decent portion of the names above to make their way to Lawrence that weekend.
I want Scott Pollard more than anyone, though. Make that happen, Kansas. His appearance at last year's Midnight Madness was epic and went tragically underreported. For all I care Pollard can be the ebullient official making Larry Brown's life hell for an afternoon.
The game is being held for a good cause with a tragic twist, though. A majority of the proceeds will go to the family and a fund-to-be-determined in honor of former Kansas basketball assistant Neil Dougherty. Dougherty died this summer of a heart attack. Other monies will go to the local Boys & Girls Club.
Tickets go on sale soon for $20, which isn't so bad. I wouldn't be surprised if the event nearly sold out.
Photo: AP