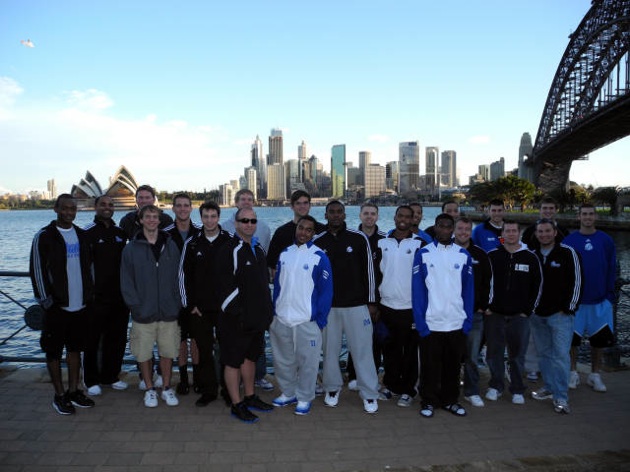 In our Trippin' series, we're talking to teams as they return from preseason trips to foreign locales. Click here for all Trippin' related stories.
Drake head coach Mark Phelps caught flashbacks when he saw video of the brawl between Georgetown and China.
Twelve years ago, Phelps went to Italy when he was an assistant at North Carolina State – and the same thing happened. With no security around, an all-out brawl ensued for at least two minutes before two Americans on the Italian team escorted NC State to the locker room and then the team bus.
"It was a zoo, it was a bad scene," Phelps said. "You show up to a gym, there's nothing familiar about the venue that makes you have any level of comfort. The crowd is against you, you're not getting one call and you don't know what their team is comprised of. You're thinking, 'Man, what are we getting ourselves into?'"
There were no fights or brawls during Drake's trip to Australia this month – and that was a good thing for more than just safety. The Bulldogs were without four of their best inside players, leaving small forward Ben Simons to play the post.
Phelps thinks the 1-3 trip Down Under will help in the long run, though.
"There will be residual benefits," he said. "Players had to play out of position, so we got see how they react to adverse situations – situations, toughness-wise, that we wouldn't see until January or February. It was a really good experience."
What Phelps learned: "It was confirmed that we can really rely on Rayvonte Rice and Ben Simons. As a sophomore and junior, that will be our strength. In our league, they'll be as good of a one-two punch as there is. I think that's what we really learned more than anything – those two will be dependable, reliable, our go-to-guys."
What impressed him: Wing scoring – "Rayvonte Rice is on an upward path, and he did exactly what I expected from him. He averaged over 20 a game, Ben Simons had about 17.5 per game. I'm really happy to see those two guys scoring, we're really going to rely heavily on those two guys. Jeremy Jeffers, a 6'6 wing, averaged right around 10 points a game. Going into his freshman year, he's got a big-time headstart on any other freshman."
What concerned him: Physicality and defense – "It's not really fair, because we were missing so many guys with size, but in order to win in the Missouri Valley, you have to compete physically. We were outmanned – once again, you're talking about pros in their 20s and 30s and we didn't have our bulk and size – nevertheless, it's something I can point to and say, we have to compete at a higher level. We're not where we want to be defensively. Other teams shot 53 percent – it's another thing you can point to and talk about."
- Returning starters Seth VanDeest (shoulder surgery) and Jordan Clarke (knee), as well as key reserve Frank Wiseler (illness), did not suit up at all on the trip. Reese Uhelenhopp started the first game, but left the game with a thumb injury and did not play the rest of the time in Australia.
- Kraidon Woods – a former Villanova commit, Arizona State signee and Binghamton transfer – did not travel with the team due to disciplinary reasons. "We had an agreement," Phelps said. "And he was on-course before falling off at the end. But I had to stick with my word. It should be a wake-up call for him."
- Point guard play is another area of concern for Phelps. Karl Madison, who redshirted last year due to injury, could take the reins later in the season, but David Smith shouldered most of the load on the trip. "We've got some question marks there," Phelps said. "We'll hone in on that in the fall."
- Drake plays Iowa State in the second game of the season, a game Phelps has had circled on his calendar. "That's going to be a big game," he said. "The experience we had prepares us to play Chris Allen, Royce White, Chris Babb. As opposed to opening up at home in a situation . . . we do have four games under our belt. We don't have a false sense of security going into the opening games."
- Drake had 18 practices or workouts as a team because of the trip. "That's 18 workouts you wouldn't typically get with your team," Phelps said. "It's such a head start. Definitely beneficial on so many levels."
- The team certainly took some time to take in the sightseeing spots in Auckland, Sydney and Melbourne. The Bulldogs went on a Sydney Harbour cruise; saw koalas and kangaroos at a wildlife reserve; and one player even climbed the Sydney Harbour Bridge.
CBSSports.com's list of teams taking preseason trips
Photo: Drake Athletics