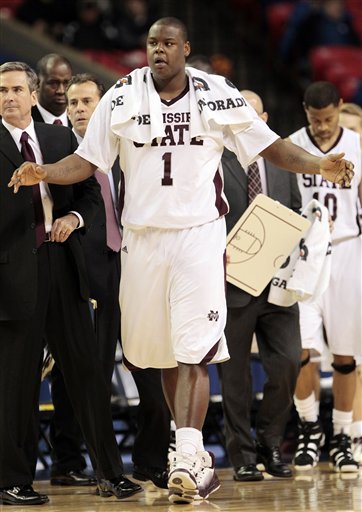 By Matt Norlander
We said it wasn't a good sign
more than a month ago
. Renardo Sidney did not take the trip with Mississippi State when the Bulldogs went overseas at the beginning of August. It was originally believed that he chose under his own volition -- perhaps even rebelliously -- to go to Houston to work out with John Lucas and improve his game, as well as his attitude.
Let's be clear and shed a light for fans, who probably already know this, but just in case. Overseas trips only happen a few years, per rule, for college programs. When they do get them, they're expensive, require a lot of planning and are pretty important to the coaches. For those who've ever traveled to Europe or Asia or Africa or Australia: think about the prep you did, then multiply that by about 20. Coaches want the whole team together if the whole team is permitted to go. There is some credence to the cliche that these trips are good for group bonding. Many a coach will tell you some of these excursions really, truly can be a positive impact for the season ahead.
For a player to get left behind, it's usually a rule, a serious injury/illness or a punishment for some harsh behavior. We now know Sidney didn't go to Europe because of Mississippi State coach Rick Stansbury -- not because Sidney chose to stay behind.
Stansbury said this Thursday
to Brandon Marcello of the
Clarion-Ledger
, as well as other members of the local media down in Starkville, Miss.:
"Let's make sure to get this clear: it was not his decision to go to Houston," Stansbury said. "Everybody understand that. I made that decision, nobody else made that decision. I made the decision, OK? That's where that is and, again, would I have liked for him to have been on the trip? I would have and it would have been good, but there are some things he had to handle that he hadn't handled. Since then, he has. ... He fulfilled some obligations he had to have for the team. And he did that. So, we'll see if he keeps progressing. We all want to hope and believe he can."
There are still hurdles for Sidney to clear and much peace of mind to accomplish on Stansbury's behalf. Stansbury, in many ways, has put his job on the line to keep Sidney in a Mississippi State uniform. He stuck his neck out last season; Sidney played in 19 games and averaged 14 points, 7.6 rebounds per game. The Bulldogs went 17-14.
I'm not certain Sidney's going to change. He's back on Twitter, with a new handle that doesn't really compute -- LawandOrder1. Alrighty. Listen, I'd love for Sidney to play well, stay on the right path and not make Stansbury look like a fool. But it's evident there are still problems existing between coach and player, and perhaps player and team.
Because Sidney didn't make the trip, this has now reached the point where, even if Stansbury and Sidney say there isn't a problem, speculation will continue well into the season. Until Sidney has an extended period of good play and better behavior, he and his coach have put themselves into a situation where questions will continue to be asked about whether he was ever remotely worth having on the team.
Photo: AP