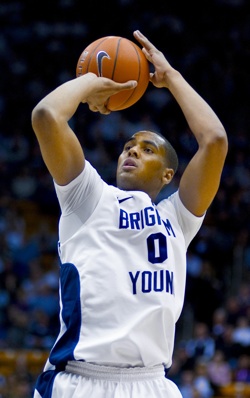 It's not Jimmer, but BYU received great news on Friday night when it was announced that Brandon Davies had been readmitted to the university and reinstated onto the basketball team.
Davies, a 6-foot-9 junior forward, had been suspended for the final month of last season for breaking the university's Honor Code. It was later found out that Davies had violated the provision that prohibits premarital sex.
"I'm excited to be back at BYU and look forward to the future," Davies said in a statement. "I'm grateful for this opportunity."
Davies averaged 11.1 points and 6.2 rebounds last season, earning third-team all-conference honors despite missing the final six games of the campaign, as well as the NCAA tournament.
"Our staff and our players are pleased that Brandon has been readmitted for the fall semester," head coach Dave Rose said. "We're excited to have him back on the team, and we look forward to a great season."
Three of the team's five losses last season came with Davies on the sidelines, as the Cougars were 27-2 with him in the lineup. He brought an element to the frontcourt that BYU struggled to replace down the stretch, running the floor in transition and also providing a legitimate inside option.
BYU lost Jimmer Fredette and Jackson Emery from last season, but the return of Davies gives the Cougars one of the better frontcourt groups on the West Coast. A return to health by junior Chris Collinsworth and a breakout season from Charles Abouo could have BYU back in the national picture. Furthermore, UCLA transfer Matt Carlino becomes eligible in December, giving the Cougars a big-time scoring threat on the perimeter.
Photo: US Presswire