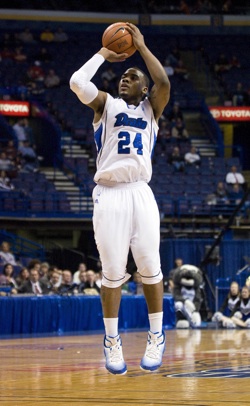 Drake head coach Mark Phelps had to fight off several high-major schools for Rayvonte Rice when he came out of high school.
The past few months, Phelps unexpectedly had to do the same thing.
"We had to fight off some unscrupulous people here in the offseason to keep him," Phelps said.
Rice averaged 13.8 points and 4.8 rebounds for the Bulldogs during his freshman campaign, leading major-conference schools to make a run at him.
"It's what happens in college basketball," Phelps said. "Every time a guy has a good year at this level, there's indirect contact from other places. You know, people saying, 'If you were to transfer, so and so would be interested.' And it spreads like wildfire."
In some cases, the player listens to the hype and makes the move to a bigger conference for the rest of his college career. Brandon Reed went from Arkansas-Little Rock to Georgia Tech two years ago, while Brandon Wood recently moved from Valparaiso to Michigan State for his fifth year.
To Rice's credit, he never entertained the idea of leaving Drake.
"It was never initiated by him, it was innuendo and rumor," Phelps said. "He was true the whole time. Every time it came up, he would squash it. 'Coach, this is my place, this is where I want to be.' We put out the little fires, so it was never a threat."
If Drake is to make a run in the Missouri Valley this season, Rice will be the key factor. The 6-foot-4 shooting guard averaged more than 20 points per game on the preseason trip to Australia, leading the team in scoring. He uses his strength to score going to the rim, but he also shot better than 40 percent from 3-point range last season.
Phelps is confident his go-to-guy could play in any league.
"He's better than the Valley," Phelps said.
Fortunately for Phelps, Rice will continue to show that while in a Bulldog uniform.
Photo: US Presswire