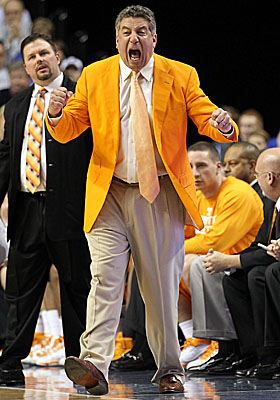 By Matt Norlander
In the end, Bruce Pearl did what must of us expected him to do with his new life: take a job in the marketing community.
Wait ... what? Yep,
according to the Knoxville News-Sentinel
, Pearl has passed on coaching at the D-League level or taking a job in television, opting instead to join H.T. Hackney Co.'s marketing team. It's a shocking move for Pearl, considering how he has grown to adore the spotlight. I have to commend him for this move, which is certainly not a high-profile gig, even if it will raise eyebrows for a day.
Pearl, who is serving
a three-year show-cause that was handed down by the NCAA last week
, will start Sept. 1 for the company, which is based in Knoxville and is in the "wholesale grocery" business. Pearl's path has become one of the more unpredictable ones in college basketball, considering where he was just over a year ago.
Board room meetings just got a lot more fun.
Here's more from the
News-Sentinel
:
H.T. Hackney, which has its corporate offices in downtown Knoxville and a regional distribution center in Roane County, is led by Chairman and CEO Bill Sansom, who formerly sat on UT's board of trustees and also is a TVA director. Sansom said Pearl, who was a marketing and economics major at the Boston College School of Management, brings freshness, enthusiasm and a strategic vision to the company.

"H.T. Hackney is a great company that has been doing things right for a long time," Sansom said in a statement. "I've known Bruce Pearl for years — his leadership, competitiveness and understanding of marketing is a great fit for our organization."

Pearl ... said the decision came down to a handful of important factors.

"I worked for 33 years — my entire coaching career — to get to a place like Knoxville," the former coach said in a statement. "This is where my family lives, this is home. We have made life-long friends here and we are very blessed to have this opportunity. ... It took a company like H.T. Hackney with a leader like Bill Sansom to attract me. As a coach, I know the importance of being a team player. It is my goal to assist our sales and marketing staff to better serve our customers, vendors and to grow our business."
So Pearl's going to stay away from basketball -- for the foreseeable future -- in the interest of humility, a change of pace and an intriguing job opportunity he probably never thought he'd have.
Photo: Getty Images