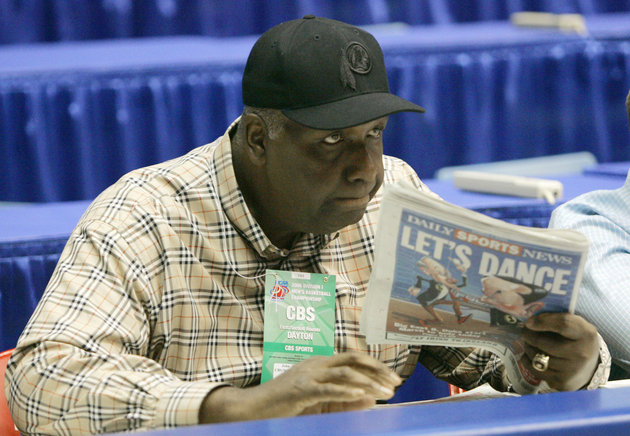 By Matt Norlander
Legendary Georgetown coach John Thompson would be dead right now if it weren't for the unwitting perseverance of one man.
In what was an
absolutely chilling interview during Jim Rome's Monday afternoon radio show
, Thompson detailed how he was supposed to be on American Airlines Flight 77 -- the one that crashed into the Pentagon on 9/11.
The story goes like this. In 2001, Rome had a television show on Fox Sports Net titled, "The Last Word." Rome's producer, Danny Swartz, had been trying to corral Thompson onto the program for well over a year. Finally, he connected with the coach and they began negotiating a date for an in-studio interview. Though he had been out of coaching for two years, Thompson was still a busy man back then, and he was supposed to be in Vegas on Sept. 13 for a friend's birthday party. So he wanted to give himself time between engagements and fly in on Sept. 11.
The schedules didn't align, and Swartz politely persisted that Thompson, who had already been booked for Flight 77 Tuesday morning, move his departure back to the following Wednesday.
"I said, 'I will only go if I can go on the 11th because I want to be in Vegas on the 12th,'" Thompson said on Rome's show. "In the meantime, the young man (Swartz) called back to the office a few days before all of this happened (9/11) ... and wanted to know whether I would come on the 12th. Back in those days, I didn't compromise hardly anything."
Thompson, admittedly, was ornery and tough to deal with almost all of the time. Swartz didn't back down, though, and promised Thompson he'd arrange everything so the coach would be able to comfortable get to Vegas soon after appearing on Rome's show. Thompson subsided and agreed to switch his flights. Come the morning of 9/11, Thompson said he could feel the vibration of the plane's collision with the Pentagon due to the proximity of his house to the crash site.
That's an eerie circumstance to realize, considering when Thompson felt the earth move, at that moment, he had no idea that he would have been on that plane if he didn't act so out of the ordinary and relent to Swartz's insistence on flying on Sept. 12. Soon thereafter, it was brought to Thompson's attention by his assistant just how serendipitous he was.
"(She said), 'You were supposed to be on that plane. If that kid hadn't have talked you out of it, you would've been on that plane,'" Thompson said. "The strangest thing about it was, it's hard to be elated about all of it because of what happened. I'm appreciative. I went out on my porch, smoked a cigar, said my prayers … but at the same time, you can't be too jubilant about it. But had it not been for that set of circumstances, I would have been on that plane on the 11th."
Rome arranged to have Thompson and Swartz on the phone together Monday -- the first time the two had spoken since before the attacks on 9/11.
"Let me tell you something, if you're ever in DC, you look me up," Thompson said to Swartz. "I was antagonistic in those days, and how you handle it saved my life. And I appreciate that."
Photo:
AP