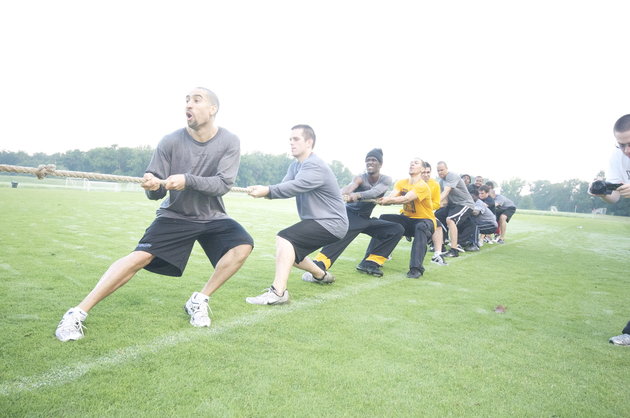 By Matt Norlander
VCU's players knew something was big coming this week, but had no idea they'd be enduring Navy SEAL training to kick-start their pre-season until Monday morning came and the vans whisked them away.
The location was tame (Richmond's Joseph Bryan Park) even if the workout wasn't. The group assembled outside the team's weight-room facilities at 6 a.m. Monday and Wednesday morning (they have one final grueling set of exercises Friday). They have gone through team-building and personal-challenge training in preparation for a season in which they'll no doubt have a massive target on their backs.
"I knew there was going to be a 'hell week' but I didn't know we were going to working with a SEALs," senior Brad Burgess said.
The team gobbled down nutritional and energy bars and soon got to work. Fast. Monday was the team-oriented activities, evidenced by the photos within this post.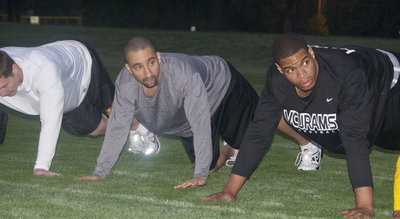 The idea for this September sweat session came after Rams strength and conditioning coach Daniel Roose did a two-week SEAL training class with John McGuire earlier this summer. McGuire, who was a SEAL for 10 years, has a really popular business all around Virginia; he frequently does solo training sessions, as well as group-oriented classes.
"The people in our program are all taking part," head coach Shaka Smart said by phone Wednesday morning. That includes everyone from team managers to the SID, Scott Day. Though some guys, like svelte assistant Will Wade, dodged the training, instead hitting the road for more recruiting obligations. (That can be just as grueling.)
"I'd be lying if I didn't admit I was a little sore, but I feel great," Smart said. "To be out there with the guys is such a thrill. You're in there with them, shoulder to shoulder, in the push-up position. .... Everything's competitive. Whether you're an individual or a small group, you're trying to win and get done before the others."
Smart has become quite known for his eager and willing physical involvement with his team. During the Final Four open practices, he dove about the floor and took charges during the squad's "Ironman" drill. On Wednesday, the group had to sprint to a field a half-mile away, then bear crawl — meaning on hands and feet, not hands and knees — the length of the field.
"That field was probably a hundred yards but it felt like a mile long," Smart said. "But the great, great thing instructor McGuire preached was, when you get done, you don't stand and rest. You go back to last. You go back to the last guy in line and help him finish."
The workouts go from 6:30 to 8 a.m., though can feel three times as long. Burgess said at some points it was absolutely brutal, as you'd imagine. I spoke to him early Wednesday morning, and he sounded tired as hell.
"We carried each other, did a lot of push-ups," Burgess said. There was also ab work, tug-of-war and sled-tugging. Wednesday morning was more individual workouts. "We had to run, do bear crawls, crab walking. It was a lot of long-distance running. ... He's trying to get our mental aspects of the game right. He teaches us to battle fatigue just like our coaches have all along."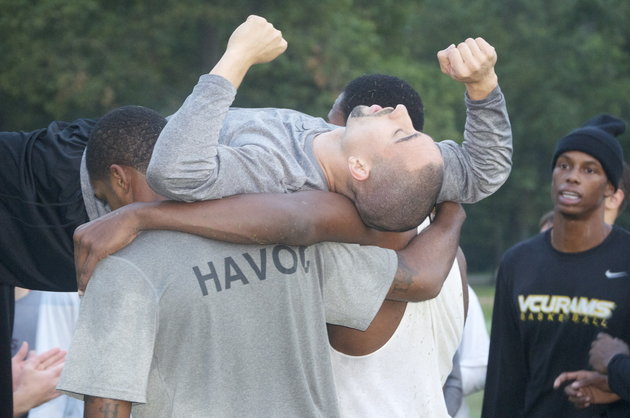 Smart echoed that sentiment.
"McGuire keeps telling our guys that you have to get outside yourself, think about the guys next to you," the coach said. "He couldn't say anything more fitting about we're all about and what most teams are about this time of year."
McGuire doesn't curse, doesn't yell, doesn't repeat himself. With him, it's all about focus and following instructions. The strength coach, Roose? Yeah — he's the complete opposite. Burgess said he's an intense guy. It's a balance needed and essential to these sessions.
Friday will be the toughest of the three days. The team will head to the James River to get the most accurate taste of true SEAL training. Will VCU be as good this season as last? Tough to measure and predict right now, but at least they'll be ready and trained in a way no other team is heading into the year.
And, by the way, I have to crowbar this nugget in. Smart has a lot on his plate right now; he's set to become the father of a girl any day. Today is the due date, though it looks like the newborn may show up a little tardy to the party.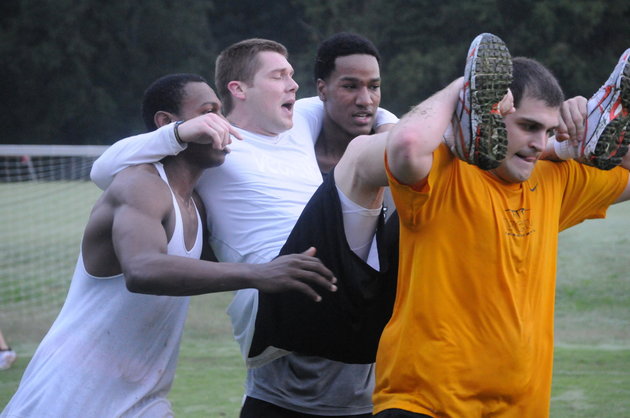 Photos via VCU athletics