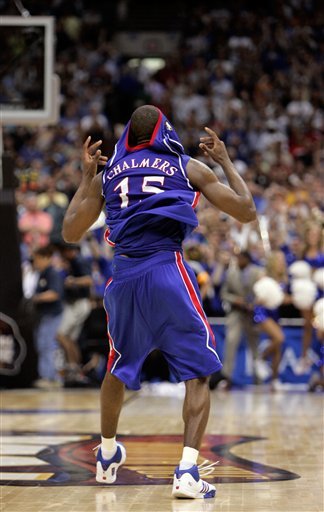 By Gary Parrish
My pal Jason King from Yahoo! Sports has a book coming out later this month. It's called "Beyond the Phog -- Untold Stories from Kansas Basketball's Most Dominant Decade," which means it's an easy Christmas gift for any and every KU fan. That's obvious. But it's going to be a worthwhile read for all followers of college basketball if there are more stories in it like
the excerpt published today at KUSports.com
.
The story is told by Mario Chalmers.
You might remember him from the 2008 national title game.
He's the guy who
hit that shot that forced overtime
against Memphis.
Anyway, before the Jayhawks beat Memphis in championship game they played Villanova in the Sweet 16. This was just another Sweet 16 game on the surface, but Chalmers said it was "personal" because Villanova's Jay Wright had previously cut Chalmers and Sherron Collins from a USA Basketball team of which he was the head coach.
I'll let Chalmers take it from here ...
So when it came to the Villanova game, Coach Self called Sherron and me into his office and said, "How do you feel about this Villanova game?" I said, "Coach, this is personal to me. I don't like Jay Wright." He was like, "I understand that, but keep it out of the media." So when the media asked if it was a personal game, we'd say, "No, it's not personal. It's just another game." But during the game we were talking all kinds of s--t to Jay Wright. We'd run by him and tell him, "Sit your ass down! We got this!" Another time we said to him, "This is what you get for cutting us. We're about to dog you!" Anytime we were throwing the ball in from the sideline, when he was standing up trying to call a play, we'd tell him to shut his mouth and sit down. There was one play where I threw a lob to Shady on an inbounds pass and he dunked over Scottie Reynolds. Right before I threw it I looked at Jay Wright and said, "Watch this!" That game was definitely personal for Sherron and me.
Photo: AP