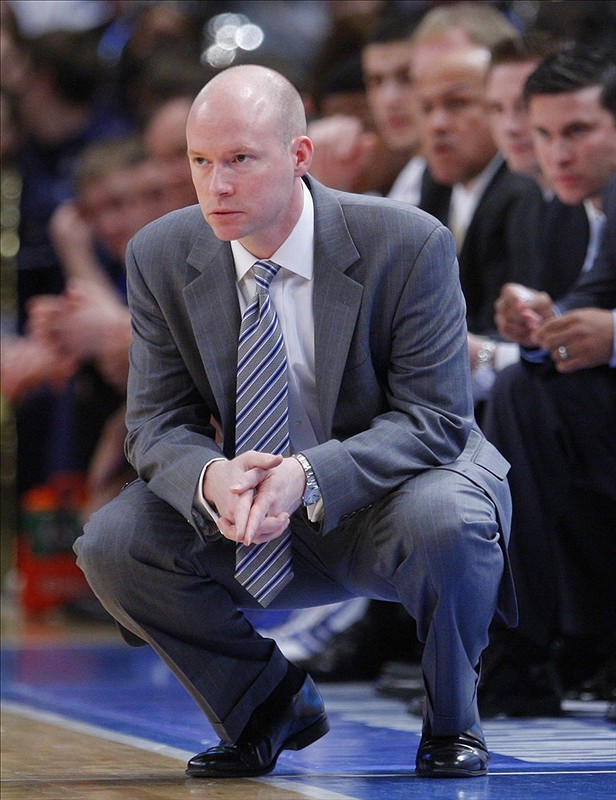 By Matt Norlander
The saddest and most ironic thing about Kyle Anderson's commitment to UCLA, and not Seton Hall: it came on
Talk Like a Pirate Day
.
UCLA luring the Jersey native -- a top-five 2012 kid -- is a huge coup for Ben Howland.
We predicted it was likely to happen
, and indeed it did. A day before Anderson planned on announcing, to boot. The 6-8 St. Anthony's point forward announced his decision on Twitter Monday night. We'll get into what Anderson's verbal commitment to UCLA means for that program and for Howland in the morning.
Tonight, can we talk about Seton Hall for a few? We don't get a chance to do that much on the blog, but Kevin Willard missing out on Anderson is just as big for the Pirates as landing him was for the Bruins. Willard chased Anderson with all he had. Every game he and his staff could be at, they were there. I talked with Willard this summer at the Peach Jam during one of Anderson's games. Normally, coaches casually make conversation and take their eyes off the court. Not Willard, at least not on that day. He was fixated on an AAU blowout like a 5-year-old waiting to blow out his birthday candles.
He put everything he had into getting Anderson in white and royal blue. The Pirates had never been so close, literally, to such a highly touted prospect. Anderson, who is probably the most dynamic player in this class, lives life a swift bike ride from SHU campus. And Willard couldn't reel him. It's not Willard's fault; Anderson was courted by plenty of big names, and Seton Hall hasn't had cache for huge recruits in well over a decade.
But it's not going well for the Pirates right now, and that's the grand and obvious observation. SHU is watching conference brethren bolt from the league like the cops just showed up at an underage party with liquor bottles all over the lawn. Who knows if the Big East even exists in five years. We know it won't exist in the way it so briefly did for the past seven years, when it became the most powerful league in the history of college basketball.
Now Seton Hall is without a positive signal, an identity, heading forward.
Borzello has mentioned
the next three targets for the Pirates, two of whom they really need to convince to come to campus. The New York-area trio of Daniel Dingle, Kareem Canty and Jevon Thomas are now next on the list. Dingle is being considered by Rutgers, Dayton, Auburn and UMass. Canty has Xavier, Virginia and Florida State interested. Thomas is the lowest-ranked, and smallest, of the three.
These are the guys the future of Seton Hall's program is relying upon. It's unfortunate, but Willard gambled because he had to. You've got someone that good that close, you have to chase him with everything you've got. It's an impossible situation for a coach like Willard at a school like Seton Hall. In many ways, and he'd never admit this publicly, Willard probably wishes Anderson lived a few hours rather than a few minutes away. That way, there's no pressure to bring him in and sacrifice going after other recruits.
But now, with no Anderson and no 20-win season since 2004, Seton Hall looks about as hindered as any program could be in what's currently becoming a pretty hindered, maligned conference.


Photo: US PRESSWIRE