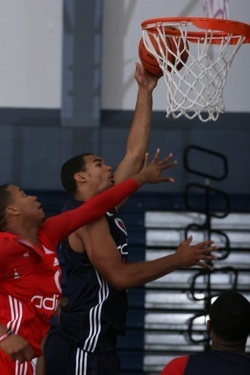 The highly-publicized recruitment of Perry Ellis is just hours away from ending.
The 6-foot-8 forward from Wichita Heights (Kan.) will announce his commitment at 2:45 p.m. local time during a press conference at his high school gym. The finalists for his services are Kansas, Kansas State, Kentucky and Wichita State.
Throughout his recruitment, Kansas has been considered by some to be the favorite, but the family has not shown their cards heading into the final day.
"All four coaches have recruited him for at least three years," Fonda Ellis, Perry's mother, told CBSSports.com. "They have built a relationship with Perry and our whole family. They are all great programs and we think they all are great choices."
Fonda Ellis took some time to break down each of the four choices.
Kansas and Kentucky are in the mix because of their tradition.
"They both have it," she said. "From the history to the winning to the fans to the coaches."
Ellis likes the desire that Kansas State players have.
"Coach [Frank] Martin has his players playing with heart," she said.
As for the hometown school, Ellis thinks Gregg Marshall has put Wichita State on par with bigger and more traditional basketball schools.
"Under Gregg Marshall, he has done an awesome job rebuilding the program to the next level," Fonda Ellis said.
Ellis is ranked No. 27 by CBSSports.com. He is a versatile forward who can score in a variety of ways. Ellis is able to post up defenders and score with his back to the basket, but he is also capable of facing up opponents and knocking down mid-range and perimeter shots. He finishes well at the rim, and is solid on the glass.
Whichever school hears its name this afternoon will be getting an impact performer.
"Perry wants to pick a school that makes him feel totally comfortable," Fonda Ellis said. "From the coaches to the players to the style of play and the campus. We just want Perry to be happy, and if he is happy, he will be comfortable and successful."
Photo: Adidas Nations