By Jeff Goodman
Some guys just aren't cut out to be head coaches. They make better assistants.
Big East Commissioner John Marinatto may be one of those guys.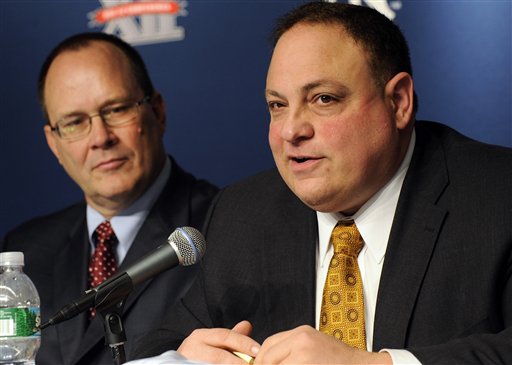 "I firmly believe we would manage this a lot better with a different leader," said one Big East head coach, speaking on the condition of anonymity. "He's a good man, a good right-hand man. But I think he's in over his head."
To be fair, Marinatto was thrust into an unenviable situation, following the late Dave Gavitt and Mike Tranghese as the leaders of the Big East.
Marinatto's resume reads as follows: A Providence kid who graduated from Providence College in 1979, then later went onto become the athletic director at the school for 14 years. He was the associate commissioner of the Big East from 2002-2009, when he took over for Tranghese.
"There's just no way it would have gotten to this point if Dave or Mike were still in charge," another Big East head man said.
One thing is for certain: Gavitt and/or Tranghese wouldn't have had the news of Syracuse and Pittsburgh's departure delivered to him in a football press box on Saturday - as has been reported to be the case with Marinatto.
"I'm not sure how it would have worked out, but it would have," a coach in the league said about the overall situation the league now finds itself.
``I doubt it," answered yet another when posed the question whether this would have occurred under previous leadership.
However, with Syracuse and Pittsburgh departing for the ACC at some point (likely prior to 2014) and UConn begging and pleading to join the exodus, Marinatto has come under fire.
While there are certainly those who are skeptical, Marinatto does still have his share of support.
"I think eventually this would have happened anyway," one coach said. "Everyone wants to put it on Marinatto, but this is a league that's been built on instability."
Now the future of the Big East - and the way it'll be comprised - is in jeopardy. Will it add a couple members to replace what is has lost - and may lose - and move forward? Or will it re-shape itself for improved long-term stability and go the route of the "basketball-only" schools, thus going hard after Xavier and Butler?
We'll see what Marinatto does - and whether his fate mirrors that of outgoing Big 12 commish Dan Beebe, who's at left of Marinatto in the photo above.
Photo: AP